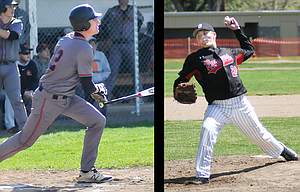 Earning Player of the Year and first-team Blue Mountain Conference awards was humbling for Dufur High School graduate Kolbe Bales.
After votes from 2A coaches from across the state, Bales not only capped his career with first-team all-state honors, but was a unanimous 2A Player of the Year selection for his standout play on the diamond this spring.
Bales posted a miniscule 0.25 earned run average with 138 strikeouts and 12 walks in 55 1/3 innings pitched. He won seven games, had six complete games, had three no-hitters, one combined, and added a save in his 13 appearances.
"It's a great honor to be recognized for this award. It shows that I caught their eye at some point of the season, which is great," Bales said. "I am very lucky and thankful to have my family, who has pushed me to be better every day. Without them, I wouldn't have received any of these awards."
Offensively, Bales had 35 hits in 75 official-at bats for a .467 average.
He drove in a team-high 47 runs, scored 34 runs, walked 30 times, went 5 for 5 on stolen bases and had four strikeouts.
The lefty was on base nearly 62 percent of the time and he posted a .693 slugging percentage.
On the field, Bales committed three errors on 100 chances, helped convert four double plays and gunned down eight runners on the bases.
"I would like to thank my coaches, teammates, and community for always supporting me," Bales said of the support. "Without my teammates, I wouldn't have had as much success as I did. My coaches helped me push myself, and the community was always the supporting cast. They would always come and support us at our games and just support the Rangers, which was why we had a lot of success."
In addition to first-team and Player of the Year status, Bales, along with Sherman graduate Kyle Fields, earned an invitation to play in the 4A/3A/2A/1A All-Star Baseball Series this weekend at Roy Helser Field on June 10-11 on the campus of Linfield College in McMinnville.
"Kolbe has always been a joy to coach, because he has always been intent on improvement in whatever it is he was doing," said Dufur coach and athletic director Jack Henderson. "Fittingly, he wraps up his high school career by being named the 2A/1A Baseball Player of the Year. I will miss coaching Kolbe, but look forward to following his collegiate baseball career at Western Oregon University."
Bailey Keever, the only other Dufur athlete on the all-state list, was voted as a first-team winner for his infield play.
Keever played 25 games overall and scored a team-leading 57 runs, drove in 29, received 19 walks and went 44 for 44 on stolen bases.
Of his 37 hits, 11 went for doubles, and added a .596 on-base percentage and a .607 slugging average.
While pitching, Keever went 8-1 with 78 strikeouts and 17 walks in 43 2/3 innings.
He scattered 26 hits, 12 for extra bases, and he was tagged for 18 runs, 11 earned and opponents hit .159 against him.
Henderson said that Keever and Bales' latest awards cemented their legacy as Dufur greats.
"Bailey capped a stellar four-year athletic career being named as a co-Ranger for the year. He was the 1A Player of the Year in football, all-league in basketball, and all-state in baseball," Henderson said. "Bailey had a profound impact on the Ranger Athletic Program and he was a key component in returning Ranger football to where it strives to be."
Although his high school trophy case is filled, Bales said he plans on continuing to improve.
A lot of his progression this spring was due to his drive and dedication through countless hours working on the finer points of pitching with coach Dean Dollarhide.
"Dean gave me a lot of great advice about taking that next step after high school," Bales said. "He is a great guy and a great coach and I am very lucky to have had him."
The Sherman Huskies were well-represented in the all-state voting, as five players earned recognition, including second-team bids by Fields (First base) and Jacob Justesen (Outfield).
Treve Martin (Outfield) and Maverick Winslow (Outfield) had their names called for third-team awards, and Bradley Moe, a junior, was an honorable mention pick at catcher.
Overall, Fields played first base and then moved over to centerfield due to injuries.
Fields hit a robust .352 with 14 doubles, five walks, 28 runs and 16 RBIs.
Being nominated to play in the all-star game is quite the honor for Fields, who has battled through various injuries the past two years, but still managed to win the praise from opposing coaches.
"I've had a great career, despite some injuries, and it has been a good experience all the way around," Fields said. "There are a lot of what ifs and talk about what could have been, but it is what it is, and I felt like I made the most of what I could."
Up next, Fields will attend Oregon State University.
Everything he has learned about life and dealing with and overcoming adversity, he attained while a student in Moro.
"I feel like I'm as ready as I'll ever be," Fields said. "I've learned as much as I can and have some great teachers, administrators, and coaches. I've taken away a lot of helpful knowledge from those people throughout the past few years. I am definitely ready for the next step though."
Winslow, a graduated senior, posted a .324 average, with five doubles, a triple, 13 walks and 10 stolen bases. He scored 20 runs and drove in 14.
"I have been around these seniors (Fields and Winslow) since they were young. They always had the work ethic and bloodlines to be great players," coach Joe Justesen said. "They were great kids on and off the field and represented Sherman with class and dignity."
From his leadoff spot in the order, Jacob Justesen belted three home runs, hit 12 doubles and added two triples to end up with a .450 batting average.
He scored a team-leading 31 runs scored, drove in 23 and swiped 23 bases, and went errorless over the final eight games.
Martin notched three home runs of his own to go with 25 runs scored and 23 RBIs.
He finished with a .424 average, hit seven doubles, stole eight bases, walked nine times and committed just two errors on his 96 chances.
Moe committed two errors and cut down six base stealers on defense, and the junior notched a .458 batting average with two home runs, nine doubles, 17 runs and 14 RBIs, to go with six strikeouts in 48 plate appearances.
Coach Justesen will miss his veterans.
"We need to fill in those spots left by our great seniors and it won't be easy, but I think we have a good core of returners that can do some very good things," coach Justesen said. "I am excited to have Treve, Jacob, Bradley and some of the other guys back for another run."
More like this story
Latest stories
Latest video:
Mosier oil train fire
Clips from oil train fire in Mosier, Friday, June 3, 2016. by Mark B. Gibson/The Dalles Chronicle. Enlarge