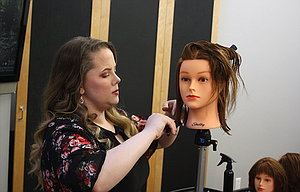 Entrepreneur Kerri Weed wanted to give her students a career they can take anywhere, and when she opened a cosmetology school in The Dalles in March, she began making good on her goal.
With the assistance of family, friends, and a highly skilled staff, Weed created the Gorge Academy of Cosmetology, at 422 E. Second Street downtown. The academy will allow up to 40 students every term to learn cosmetology skills under the direction of licensed educators. The school is teaching a wide range of services, including haircuts, beard trimming, manicures and pedicures, hair coloring, putting permanent waves in hair, and a variety of waxing services.
Weed has a business and marketing degree from Oregon State University, and she is no stranger to the world of cosmetology. She worked for Paul Mitchell Products, a California-based company that offers hair care products and styling tools. She handled sales and served as the company's education coordinator across a region that included all of Oregon and Washington.
"I traveled non-stop," she said.
After 13 years, she realized she was ready for a change.
"I wanted to build something of my own, so five years ago I began writing curriculum and went through an eight-step process to be licensed for cosmetology," Weed explained. "I wanted to put my (OSU) degree to use, and put all these ideas into action."
Weed has been using her marketing talents to come up with promotions to help let the community know the academy has opened for business.
"We have been busy," she said. "We had a '$5 Frenzy' in May, with haircuts and nails done for just $5. We want to get people to notice we're here. We're also going to do the 4th of July parade, and we're excited about that."
Weed hired Karyn Schofield to be the lead instructor at the academy, and the partnership has been very productive. Schofield, who grew up in The Dalles, is fully licensed in cosmetology, with a focus on hair design, esthetics, nails, and barbering.
"We're the only school like this on I-84 from Portland to Boise," Schofield said. "It's an opportunity to obtain a license without having to go to Portland to get it. We've had a lot of great feedback, and the community has been incredible."
Weed said she believes The Dalles is an ideal location for her beauty school.
"When we were looking for a location, we considered cost, availability, and population," Weed explained. "We wanted to be part of the community. We wanted to help The Dalles blossom. We saw change going on, and it's so nice to be down here. It is so convenient, and our clientele has been very supportive."
According to Weed, a full cosmetology degree will cost a student between $12,000 and $14,000, and requires about 15 months of instruction and training for a full-time student.
Part-time schedules are also available, and a student can tap into any one specific facet of cosmetology if they want to. For instance, a license to work on nails requires about 600 hours of instruction and training. For barbering, it would take 1,300 hours, and for esthetics, 500 hours.
"You can come in and just learn to do nails, for example," Weed said. "We wanted to offer flexibility, because many people have another job or a family to take care of. We want students to feel comfortable and to be able to study and work at their own pace."
The Gorge Academy of Cosmetology's summer term started on June 6, and there are slots available for new students.
"I want to give people a trade," Weed said. "We want to make sure every student has a solid career path."
As a side benefit to the city of The Dalles, the academy will also be good for local consumers, because they will be able to obtain a wide variety of hair design and salon services at relatively low cost from students performing these services under the direction of licensed educators. A basic haircut at the academy costs only $10; a beard trim is $5; hair coloring starts at $30; and getting a perm comes in at $30. The school also provides basic manicures and pedicures, for $10 and $15 respectively, and a wide variety of beautifying waxing services.
To contact the Gorge Academy of Cosmetology, call 541-769-1144. The school is open from 9 a.m. to 6 p.m., Tuesdays through Saturdays.
More like this story
Latest stories
Latest video:
Mosier oil train fire
Clips from oil train fire in Mosier, Friday, June 3, 2016. by Mark B. Gibson/The Dalles Chronicle. Enlarge