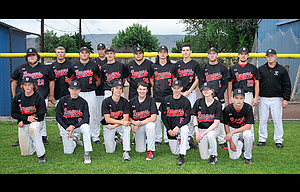 Kolbe Bales had an all-time season on the mound, finishing with career-highs in several categories for the Blue Mountain Conference champion Dufur Rangers.
In a year of firsts, the Rangers had their high regular season ranking of No. 1 for that final two months, were the No. 1-seeded entering state action, added a program-best 24-2 record, and vaulted to their deepest postseason run in program history, the semifinals.
Bales was one of two Rangers to earn first-team honors, along with senior Bailey Keever, and he finished as the BMC's Player of the Year.
"I am happy to win these awards, but I give credit to my coaches and my teammates. Without them none of this was possible," Bales said. "We accomplished a lot this year. We came from barely making it to districts last year to being the first overall seed. We had a great group of guys and a great season. I am glad I got the chance to play with these guys."
Bales posted a miniscule 0.25 earned run average with 138 strikeouts and 12 walks in 55 1/3 innings pitched. He won seven games, had six complete games, had three no-hitters, one combined, and added a save in his 13 appearances.
Offensively, Bales had 35 hits in 75 official-at bats for a .467 average. He drove in a team-high 47 runs, scored 34 runs, walked 30 times, went 5 for 5 on stolen bases and had four strikeouts. The lefty was on base nearly 62 percent of the time and he posted a team-best .693 slugging percentage.
On the field, Bales committed three errors on 100 chances and helped convert four double plays.
Dufur coach C.S Little was always able to count on bales to come through in clutch situations over the past four years.
"Kolbe has impeccable work ethic, paying particular attention to detail," Little said. "He puts in countless extra hours honing his pitching, fielding and hitting skills. He is not satisfied with ordinary. Pitching is his forté. He has good velocity, excellent control and great movement on his pitches. He is also a top-rate first baseman with excellent ability to scoop errant throws. As a hitter, Kolbe possesses a sweet and level textbook swing. His hands are quick and he rarely strikes out."
Keever played 25 games overall and scored a team-leading 57 runs, drove in 29, received 19 walks and went 44 for 44 on stolen bases.
Of his 37 hits, 11 went for doubles, and he added a .596 on-base percentage and a .607 slugging average.
While pitching, Keever went 8-1 with 78 strikeouts and 17 walks in 43 2/3 innings. He scattered 26 hits, 12 for extra bases, and he was tagged for 18 runs, 11 earned and opponents hit .159 against him.
Having Bales and Keever at the top of the order and as the first two arms to throw in big games was luxury not lost on the mind of coach Little.
"Bales and Keever played a huge role in our success this season," Little said. "Much of their leadership effort was portrayed on the field. That leadership effort will be carried on by our juniors, and don't forget, the sophomores have a lot of experience as well."
Hagen Pence (Infield), Curtis Crawford (Outfield) and Connor Uhalde (Utility) earned second-team slots for their play this spring, and sophomore Tabor McLaughlin was an honorable mention selection.
Pence led the Rangers with 38 hits and he ended up with a .427 batting average. The junior hit 10 doubles, two triples and a home run, was issued 13 walks and scored 25 runs.
On the base, he was 9 for 9 on stolen bases, and he posted a .519 on-base average and a .617 slugging percentage.
He only made four errors on 155 chances and gunned down .267 of would-be base stealers from his catching position.
As a pitcher, Pence struck out 33 and walked seven in 21 innings and he went 2-1 with three saves.
Crawford broke through for the Rangers on offense and as the team's starting centerfielder.
The junior had a .291 average with 20 runs scored, 23 RBIs, seven walks and 11 stolen bases.
In the outfield, Crawford committed two errors for a .909 percentage and he posted 16 assists.
Uhalde went 41 for 44 on stolen bases, walked 23 times, had a .391 batting average with 11 extra base hits, 31 runs scored and 12 RBIs.
He was second on the team with 23 walks, struck out seven times in 87 official at-bats and was on base 54 percent of the time.
"Pence, Crawford and Uhalde earned recognition for their accomplishments and could have been just as easily been first team," coach Little said. "With Hagen and Curtis coming back, I feel that leadership will not be a problem in the future for Dufur Baseball."
As the lone honorable mention player, McLaughlin played everywhere in the infield and pitched.
He hit .314 with 22 RBIs, 15 runs scored, had 10 doubles and a triple, walked 10 times and was hit by pitches a team-high seven times. McLaughlin had a .485 slugging average and was on base 44 percent of the time, and added an 8 for 9 split on stolen bases.
The sophomore committed two errors all season on 55 total chances for a .964 average, he had 16 assists and helped turn two double plays.
On the mound, he struck out 13 and allowed 21 runs, 13 earned, on 13 hits in 14 1/3 innings. He allowed a .217 batting average.
More like this story
Latest stories
Latest video:
Mosier oil train fire
Clips from oil train fire in Mosier, Friday, June 3, 2016. by Mark B. Gibson/The Dalles Chronicle. Enlarge