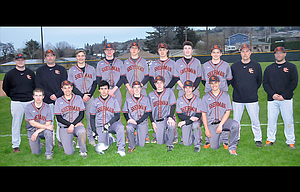 The Sherman baseball team nearly put up identical numbers from a season ago, with four more league wins, one more win overall, and a quarterfinal state berth, and as a result, eight players picked up Blue Mountain Conference honors, including five first-team winners.
"We got stronger defensively and were able to make huge improvements offensively," said Sherman coach Joe Justesen. "The kids found the recipe for success and showed more maturity, learning the right approaches at the plate and on the field. It was great to put it all together and make a run this year. I was real pleased with how they all came along."
Earning first-team awards were, Jacob Justesen (Infield), Kyle Fields (First Base), Treve Martin (Outfield), Maverick Winslow (Outfield) and Bradley Moe (Catcher).
Brett Troutman earned second-team status for his pitching, and on the honorable mention side, Max Martin and Trey Homer had their names called.
In league action, Jacob Justesen had a .320 average with seven doubles, a triple and three home runs, with 23 runs scored and 18 RBIs.
Fields, who played first base and outfield, set a torrid pace with a .348 average, while hitting eight doubles, scoring 28 runs, and driving in 15.
Winslow added an average of .324 with five doubles, a triple, 13 walks, 10 stolen bases, 20 runs and 14 RBIs in his 16 league matchups.
All three of those players made position switches midway through the league season and it did not affect their defense or offensive numbers.
"It took me probably a little longer than expected, but I was able to find a way to put those guys in the right spots to contribute," coach Justesen said. "They are our leaders and they showed it by them being willing to fill spots whenever we needed them to. When you have that level of sacrifice, it shows the younger guys how committed they were to the team aspect of things."
Treve Martin had one of the biggest offensive turnarounds this season for the Huskies, as he moved up in the batting order and added a power element to the lineup.
In his 16 league contests, the junior right fielder posted a .440 batting average with five doubles, a home run, 18 runs scored and 19 RBIs. He only committed two errors on the field.
While Moe suffered a season-ending thumb injury late in league play, his worth was noted by opposing coaches when it came down to voting.
Moe committed two errors and cut down six base stealers on defense, and the junior notched a .458 batting average with two home runs, nine doubles, 17 runs and 14 RBIs, to go with six strikeouts in 48 plate appearances.
"Having five players on the first team is a good representation for us," coach Justesen said. "That is the most we have had on the first team since I have been here as a coach. It was well-deserved too. They did a fantastic job of just growing up and doing what I have always expected that they could do and then showing it on the field. I am just proud of how they handled themselves."
Troutman kept his rise up the ranks in his junior campaign, using his bat and his arm to help lead the Huskies to a solid season.
In the batter's box, Troutman had a .500 batting average with 16 runs scored and a team-high 33 RBIs. He struck out just three times in his 53 plate appearances.
On the mound, Troutman had a 9-2 record, a 3.30 earned run average and allowed 27 earned runs in his 57 innings pitched.
He struck out 37 and walked 22.
"Brett is definitely one of the players I am going to watch for next year. He is serious about this sport and has the right mindset and temperament to have success," coach Justesen said. "He doesn't say much, but when you look at the way he carries himself, he is all business. There is a seriousness there that is contagious. That kid just wants to win."
The final two league winners were Max Martin and Trey Homer, two players who combined for 24 RBIs and 23 runs and 11 extra base hits this year.
Max Martin hit .302, scored 11 runs, drove in eight, stole three bases walked six times and struck out six times in his 47 overall plate appearances.
Homer smacked three home runs, posted five doubles, stole two bases, scored 12 times and hit .420 with 16 RBIs, as the team had a .340 team average, 219 runs scored and 12 home runs.
More like this story
Latest stories
Latest video:
Mosier oil train fire
Clips from oil train fire in Mosier, Friday, June 3, 2016. by Mark B. Gibson/The Dalles Chronicle. Enlarge