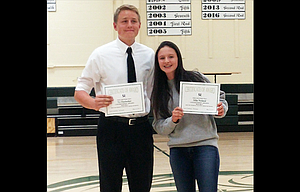 Ty Herlocker had a memorable sendoff at the South Wasco County Spring Awards ceremony Thursday, May 25 in Maupin.
The senior was awarded scholarships, earned a full ride to the University of Oregon, was awarded his National Honor Society cords, named class valedictorian and had his name called as Student of the Year, along with junior Allie Noland.
Both Herlocker and Noland were voted on by SWC staff, as the Citizenship Award winners.
"Being a Redside is an honor," Herlocker said. "I am a part of a community that takes interest and shows support in one another. I feel proud to represent my school and community, on and off the court, because they give me so much support. It would be difficult to represent my school and community if I knew that no one cared about me. I consider myself very lucky to be a Redside."
Herlocker also picked up the Muller Scholarship and the Randy Rood and Lenore Walters Scholarships, and fellow senior Haven Stephenson has the Lenore Walters Scholarship, the Karen Dupuis Scholarship and the Ted and Lora May Hachler Scholarship.
Dawson Herlocker earned the Randy Rood Scholarship and Lenore Walters Scholarship, Lindsey Hull had the Mary Frances Award, Devan Dammann, Brody Myers, Travis Hayes, Lisa McNamee and Cheyenne Emerson received the Barlow Gate Grange/Lenore Walters Scholarship.
Abby Birman, Austin Davis, Madisen Davis, Jada Myers, Jacqueline Noland, Melia Shetler, Kyrsten Sprouse were inducted into the National Honor Society for their academic achievements this spring.

Allie Noland (President), Ana Popchock (Vice President), Davis (Secretary), Matthew Gragg (Treasurer), and Myers, Julia Saldana-Cortez and Sprouse were named activities coordinators for next year's Associated Student Body.
Senior state track qualifier, Ally Muhleman, was selected as the 2017 Salutatorian.
"The people who have won awards should be very proud," Ty Herlocker said. "To win an award means that you stand out among the rest and have been recognized for what you have done. Everyone who aspires to win an award needs to focus more on the award they want. Awards are not given to you; they are earned."
Allie Noland and Dawson Herlocker received Redside Athlete of the Year honors, and both Popchock and Michael Cuevas were Track Most Valuable Players.
"I'm really proud of our athletes this year," said coach and athletic director Jim Hull. "It is very evident that they put in the time and hard work required to be an exceptional athlete, not only at South Wasco, but in the entire state of Oregon. It is pleasing to know that our student-athletes represent South Wasco so well."
Skyler Anderson, Kayla Brittain, Jazmin Espeland, Dawson Herlocker, Ty Herlocker, Lindsey Hull, Keith Kegel, Madison King, Andrew Lindley, Ally Muhleman, Codi Palmer, Stephenson, Nick Ward, Wilson Wells and Trevor Wonderly may be graduating, but the upcoming kids can aspire to keep the success going over the next few years.
"This year's senior class has pushed me to be my best," Ty Herlocker said. "My driving force is competition. On the court, I have been able to play against very talented seniors that have pushed me to better myself. In the classroom, I have been challenged academically by my school's seniors. They have pushed me to get the best grades that I can get. This class means so much to me. It is full of strong, independent, bold, and intelligent people. As they continue to set the bar, I'll continue to work my hardest to exceed all expectations. It is a driving force that pushes me to be my best."
More like this story
Latest stories
Latest video:
Mosier oil train fire
Clips from oil train fire in Mosier, Friday, June 3, 2016. by Mark B. Gibson/The Dalles Chronicle. Enlarge