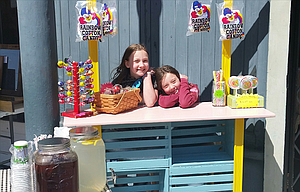 Two members of the business community in Moro are organizing a new event to bring people to the community.
Lisa Shafer of Lisa's In Stitches and Deena Johnson of Sage Mountain Primitives are bringing vendors together every first Saturday of the month from May through October for an art walk and farmers market, 10 a.m. to 5 p.m. on Moro sidewalks along Main Street.
"We wanted a fun activity to bring the community together, and to highlight the talented artists in the region,"said Shafer.
Vendors at the first event in May included artists with tree-stump art, picture frames, rope bowls and wood art, yard art, knitted items, wreaths, birdhouse wind chimes and fairy gardens plus baked goods, lemonade and a candy stand.
The list has already expanded for the second event on Saturday, June 3.
Attendees will find arts and crafts, produce and food for purchase and musicians will play at certain times.
"Besides the folks living in Sherman County, we are hoping this event will draw visitors and vendors from outside the county to enjoy our downtowns, shops and attractions like the Sherman County Historical Museum," says Johnson.
In the future, the two hope to expand the event to nearby cities to encourage visitors to travel on an art loop, making a day of exploring the communities in Sherman and Wasco counties.
For now, everyone is welcome to the Moro event, 10 a.m. to 5 p.m. on June 3 in Moro along the Main Street sidewalks to find a treasure, taste something new and have a good time.
Contact Lisa at 541-980-4162 or Deena Johnson at 541-705-0232 with questions or to sign up as a vendor.
More like this story
Latest stories
Latest video:
Mosier oil train fire
Clips from oil train fire in Mosier, Friday, June 3, 2016. by Mark B. Gibson/The Dalles Chronicle. Enlarge