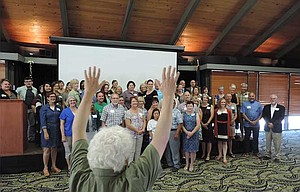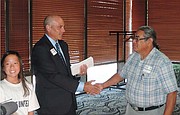 Columbia Gorge United Way awarded $275,000 to 36 agencies in the Mid-Columbia region Tuesday at the Best Western Plus Hood River Inn.
Jeff Heater, president of the United Way Wasco/Sherman Council, said a record number of contributions came in from area residents and businesses in 2016, which allowed more local programs to receive assistance.
"We've been consistently raising more every year and it's pretty amazing," he said.
Two weeks ago, the Wasco/Sherman council held a block party to raise money for programs that help domestic violence victims, at-risk children, low-income families, runaway teens, the homeless, seniors on limited incomes, and others.

Heater said numbers are still being crunched so he did not yet know how well the event did. In 2016, the party outside Clock Tower Ales generated about $12,000 and he expects the total from this year to be comparable.
At the July 25 event, about 100 people gathered to hear a presentation by Paul Lindberg, who serves agencies through the Gorge by researching grant funds and development programs to meet social needs.
Lindberg said United Way is aligning its funding decisions with priorities set out in the Community Health Improvement Plan, a document that is updated each year to help agencies coordinate ways to address health and social needs.
United Way of the Gorge oversees three councils that represent five counties and is headquartered in space donated by Hood River County. There are two part-time staffers to perform administrative duties, and Heater said the heart and soul of the nonprofit group is its volunteers.
These individuals screen applications for funding. They are looking, said Heater, for programs with a prevention-oriented focus that can demonstrate how the money will be used and the number of people who will be served.
Heater said United Way of the Gorge has invested more than $2 million in Wasco, Hood River, Sherman, Klickitat and Skamania counties since its inception in 2006.
He can be reached for more information about United Way, or volunteer opportunities, at 541-308-6175.
Latest stories
Latest video:
Mosier oil train fire
Clips from oil train fire in Mosier, Friday, June 3, 2016. by Mark B. Gibson/The Dalles Chronicle. Enlarge