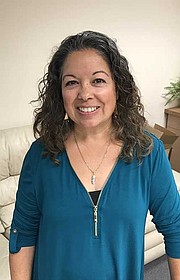 Eagle Media, the company that owns The Dalles Chronicle and Hood River News, is making a bold new move with the Aug. 1 appointment of Chelsea Marr to be publisher over both Gorge publications.
"This has been something in the planning stages for a long time," said Joe Petshow, president of the company. "Our goal is to have a regional approach to news so you will be seeing more crossover in stories and the editorial departments from Hood River and The Dalles working collaboratively on more projects.
"Chelsea's experience and proven leadership is going to be invaluable at implementing this new program. She's the perfect person to lead this transition."
Marr has lived in the Gorge since 1993 with her husband, Dan Stelma, and now 11-year-old son, Wyatt. She is seated on the Eagle board of directors and involved with Columbia Gorge United Way and the Hood River Rotary.
She plans to get involved in civic groups in The Dalles and already knows many community members, having started her career in ad sales at the Chronicle and then taken on duties as marketing director and general manager.
"As publisher of both the News and Chronicle, I plan to share my time between the two communities," she said. "I look forward to reconnecting with many familiar faces in town and getting to know new ones.
"It feels like I am coming back to my roots. I began my career with Eagle at The Dalles Weekly Reminder in 1995. I had no idea when starting in advertising sales that the newspaper industry would become my career. This business is never dull and I enjoy the fast-paced, changing environment."
She said in a constantly changing industry, the Chronicle, News and other Eagle publications have continued to deliver top quality products with fewer staff and resources than they once had.

"Our newspapers continue to be competitive, offering businesses expanded marketing opportunities to give advertisers more ways to reach potential customers," she said.
Marr left the Chronicle to take on duties as general manager of the News in October 2013. She was promoted to publisher of the News in 2015.
"The Chronicle has a very talented, award-winning staff that strives to the highest publishing standards, providing fair and thorough coverage," said Marr. "My goal is to continue to further enhance and expand news coverage and marketing opportunities in the Gorge.
"We have great synergy among our staff and we will continue to collaborate in finding ways to serve our communities."
For the past year, RaeLynn Ricarte has served in the role of executive editor of the Chronicle, managing daily operations as well as reporting news and overseeing the editorial department.
With Marr taking over administrative duties, Ricarte said she will also be able to return to her roots — telling the stories of people who are woven into the fabric of the community.
"I am getting ready to start a new adventure, a new series called 'Rural America,' and it will be fun and educational for readers," she said.
"I love being out in the field finding the stories that people care about, the stories that inform them about something they previously didn't know and give them a glimpse into another way of life.
"Having Chelsea onboard will allow me to put my energy into my passion for reporting."
Marr is actively involved in her son's school and said she enjoys sharing with all Gorge students the vital watchdog role the media plays in coverage of government agencies, and informing people about policy decisions that affect their pocketbooks and quality of life.
"It is especially important to help students understand the continued risk in fake news and how to identify true journalism," she said.
"I appreciate the impact a community newspaper has on the people it serves and its ability to shape a town and push for change."
Marr will split her work week between Hood River and The Dalles. She invites people to visit when she is in the office, or contact her with further questions at 541-296-2141.
More like this story
Latest stories
Latest video:
Mosier oil train fire
Clips from oil train fire in Mosier, Friday, June 3, 2016. by Mark B. Gibson/The Dalles Chronicle. Enlarge