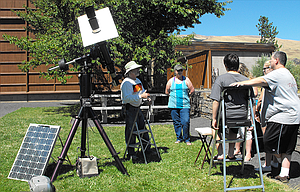 Bob Yoesle from Friends of the Goldendale Observatory will present a solar viewing Saturday, Aug. 12, from 11 a.m. to 3 p.m. at Columbia Gorge Discovery Center, weather and clouds permitting.
Using special safely-filtered telescopes people can get an unbelievable view of the sun. (Never look directly at the sun — especially using a telescope — without approved filtration.) The Sun is a cauldron of incredibly hot gases, sunspots and loops of gas called filaments and prominences.
Yoesle will explain what people are looking at, and the fascinating physics which underly these features of the sun.
This event is free and will be held outside the museum. Admission still applies for visitors who wish to see the exhibits.
Yoesle will also present "The Great American Eclipse" from 3 to 4 p.m. inside at the Murdock Theater.
The eclipse presentation is included with museum admission or $5 for the program only.
Yoesle will explore historical eclipse expeditions, and help community members and visitors prepare for their own historical journey to view the solar eclipse the morning of Monday, Aug. 21. It will be the first total eclipse to touch on American soil since 1991; the first on the mainland since 1979; and the first to sweep across the entire country since 1918.
In Oregon the 2017 total eclipse will cut a swath through the central part of the state, from the coast to the Idaho border. The path of totality, or umbra, in Oregon will pass over Lincoln City and Newport, Salem, Corvallis, Warm Springs, Madras, the John Day Fossil Beds, Dayville, John Day, Baker City and Ontario. Outside the path of totality, such as in The Dalles and Washington State, the eclipse will be seen as a partial solar event. People need to travel to Central Oregon to view the eclipse as it passes in a wide arc through the middle of the state.
The Goldendale Observatory is offering engaging programs and information about the eclipse as well.
For those who cannot make it to the path of totality, the observatory will be open for viewing the 98 percent partial eclipse — a very thin crescent sun — which is still quite blinding, and safety eye protection must be used at all times.
Columbia Gorge Discovery Center is located off I-84 exit 82, at 5000 Discovery Drive, The Dalles.
More information call 541-296-8600 ext. 201 between 9 a.m. and 5 p.m. daily.
More like this story
Latest stories
Latest video:
Mosier oil train fire
Clips from oil train fire in Mosier, Friday, June 3, 2016. by Mark B. Gibson/The Dalles Chronicle. Enlarge