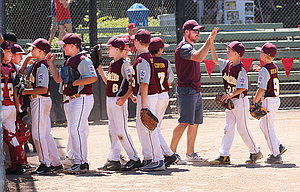 PORTLAND – As one of the wild card teams entering district and state action, The Dalles 10U Little League team made believers out of a lot of people.
With a group of seven 10-year olds and six 9-year olds, and only three players with previous all-star experience, The Dalles captured a District 5 title and wound up with a 2-2 record at the Oregon State Championships for fourth place honors.
The baseball campaign ended Tuesday evening, however, as TD suffered a season-ending 16-6 mercy-ruled loss to Sprague in the state consolation rounds in Portland.
Even as his team packed up their gear for the final time this summer, head coach Michael Cates continues to be amazed by the memorable journey he shared with his upstart group.
"To be honest, I didn't think we would make it out of districts. I just didn't know how good our team was," Cates said. "After being with the boys more and more, I knew we had it. We had the right pieces. We had a solid pitching crew, solid defense and good bats when we kept our heads. We were aggressive on the bases and made teams make mistakes, which helped us out tremendously. These boys have been a pleasure to coach and I couldn't be more proud of them."
In Tuesday's finale, TD fell behind 11-0 through the first inning and a half, but then inched to within an 11-6 deficit, until a five-run top of the fourth inning sealed a 16-6 Sprague victory.
In their two-run second inning, Cody Agidius led off with a double and Sterling Coburn followed with a walk.
One out later, Derek Goulart singled home Agidius to make it 11-1.
With two outs and Coburn in scoring position, Avery Schwartz smacked an RBI single, running the Sprague lead to 11-2.
Nolan Cates started off TD's four-run third inning with a single and later scored on an RBI single by William Booth.
Agidius walked, and then Booth wound up scoring on an RBI groundout by Coburn, and Agidius circled the bases for home on a couple of errors following a single by Carson Ramsay.
Before the third out could be recorded, Ramsay wound up scoring the fourth run of the frame.
Trailing by only five runs through three innings, it appeared as though The Dalles had new life.
Sprague quickly snuffed out those comeback thoughts with a five-run top of the fourth to make it a 10-run game.
All told, Sprague totaled 13 hits, received 11 walks and struck out two times against three TD pitchers over the four innings.
On the flip side, The Dalles managed just six hits and had four batters reach on walks.
Sprague pitchers struck out five and stranded five TD base runners overall.
Nolan Cates was 1 for 1 with two walks and a run scored, Agidius had a double, a walk and scored twice, and Ramsay went 1 for 1 with a run scored and an RBI.
Booth added a hit and a run scored, Schwartz went 1 for 3 with an RBI, and Goulart was 1 for 1.
All Stars showed resiliency
Earlier in tournament play, last Saturday, The Dalles trailed Hollywood/Rose City, out of Portland, 6-1 through one inning, but chipped away at the lead, getting as close as a 7-6 deficit with a three-run top of the fifth, capped by a three-run home run by Nolan Cates.
Down by one run, TD still had the bases loaded and two outs, but could not get the tying run home.
That missed opportunity played into the hands of the Portland squad, who broke open its one-run lead with a five-run bottom of the fifth in a 12-8 win.
TD had 13 hits and seven walks, but had two runners thrown out at home and stranded 10 base runners, six in scoring position.
"The first game was a game that we could have won," coach Cates said. "We put ourselves in a bad start to the game with our pitchers not throwing strikes. If we would have played our normal game, we would have definitely taken it."
After that initial loss, coach Cates talked about how he tried to inspire his team and gave them an example of how La Grande lost its first game at the 12U state tournament and then fought back through the loser's bracket to win it all.

He believed this squad had the ability to repeat that feat.
That loss shook the cobwebs loose for the Stars, who went on to cruise past Ashland, 13-0, on Sunday, and on Monday, they racked up several early runs and rode that advantage to a 12-5 victory.
"Our first win against Ashland was a pretty easy game for us. We came out hitting and our pitching was solid," coach Cates said. "In our second win, we came out very aggressive at the plate and jumped out to a 7-0 lead. Our hitting and base running were solid and our pitching was the same."
Those fast starts allowed Cates to shuffle his pitching staff a little more, mixing in five or six arms in each game, including Jonah Ofisa and Goulart, who had not pitched in all-star action before.
It also gave the coach a chance to save Booth, Schwartz, Coburn, Agidius and Nolan Cates for the bigger games deeper in tournament action.
In those two lopsided triumphs, where they outscored opponents by a 25-5 margin, TD pitchers allowed five runs on 10 hits in 10 innings, with 18 strikeouts and 11 walks.
"Our pitching was solid. We had five or six pitchers in every game come in for 20 pitchers and they threw consistent strikes," coach Cates said. "Some struggled here and there, but for the most part, our team did great in stepping up and doing their job."
A bright glimpse to the future
Coach Cates felt, even as young as TD was, he had one of the best teams at state.
If they could have won that first game, there's no telling how different the final tournament outcome would have been.
Nonetheless, Cates knows that his group walks away from 10U action better equipped to handle all-star play next season.
There is definitely a feeling of optimism that great things are indeed ahead.
It will be up to Trey Hodges, Joshua Brackenbury, Hudson Case, Reese Kenslow, Finley Corbin and the rest of the athletes to keep progressing.
Winning a district title and scoring fourth at state is a good starting place.
"I am super excited about their potential. I have had a lot of these kids in multiple sports, so I have seen them compete," coach Cates said. "Some of them were pretty bummed that they missed out on the all-star team last year and they came out motivated. I am glad they got this chance. Some of them have made huge strides from last year and I know they will make even bigger ones in the future."
More like this story
Latest stories
Latest video:
Mosier oil train fire
Clips from oil train fire in Mosier, Friday, June 3, 2016. by Mark B. Gibson/The Dalles Chronicle. Enlarge