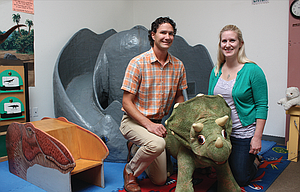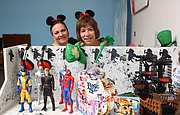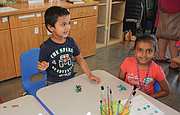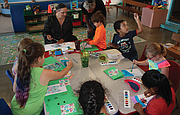 The fun never seems to stop at the Wonderworks Children's Museum of the Gorge.
For the past 40 years, in one location or another around The Dalles, kid-friendly Wonderworks has been providing activities and educational opportunities for youngsters.
"It's an interactive place for kids to come and play and work with hand-eye coordination," said Corey Case, a Wonderworks board member.
Inside the center, kids are often happily at play. There are all types of educational activities for youngsters to get involved in, including science projects, dress-up games, a dinosaur display, a light table where children can look at X-rays of various animals, show and tell with live animals, and a table with wooden toy trains to play with.
Wonderworks is described as a young children's "play station and museum that provides families of young children the opportunity to explore, engage and enjoy one another through open-ended play and learning," according to a promotional brochure.
"It's an 'unplugged' space for kids to try things out and learn a variety of new activities," said board member Tiffany Hillman. "There are a variety of sections for youngsters to explore, learn and play with. And parents have the option of coming in to interact with their kids, or just be able to make a mess and not worry about cleaning it up."
Hillman pointed out the displays and creative activities in Wonderworks are often in transition.
"We like to have new programs for community members and children," she said. "We rotate different displays to keep kids active and educated. It's a community program to help kids learn."
Since 2011, the museum has been housed in a small building at 206 Madison Street in The Dalles. In December of 2014, Wonderworks was able to purchase the building to make a permanent home for the museum.
According to Case, the museum received non-profit, 501(c)3 status in 1977.
For the upcoming 40th anniversary this fall, museum board members plan a celebration and an auction to continue raising funds for the facility.
"We want to really go big this year and celebrate the accomplishment of having this in the community for 40 years," Case said. "It has been a team effort."
Those interested in attending the dinner or the auction are invited to their Facebook page where they can find more details and dates for the events.
Hillman explained that the facility generally hosts youngsters who range in age from infancy to about 10 years old, and serves Wasco, Hood River, Sherman and Gilliam counties.
"No day is the same," said Micah Steinbach, artistic director at Wonderworks. "We have lots of plans. This is one job where, if you take it home, you feel good about it."
Steinbach, who lives in Dufur, teaches an art class every Thursday, mainly watercolors, and said she loves it.
"I've always been interested in art, from the time I was homeschooling my kids," she said. "The kids love watercolors."

Robyn Conger, the administrative coordinator, said she is gratified to be working at Wonderworks.
"I'd been in health care previously, and this sounded like something different," explained Conger, who lives in The Dalles. "It's more fun and less stress. I love it. This is a great place for kids and parents."
Case said Steinbach and Conger were both hired recently, and have been very positive for Wonderworks.
"Their new energy is going to be great, and we are excited to have them at the museum," Case said.
Hillman said she is impressed with the story of how the place originated way back in 1977.
"It was a group of moms who started it," she recalled. "Just as a place for kids to play and network, and it evolved to what it is now."
With that history in mind, perhaps it's only natural that even today, the museum can be rented by parents who want to have a unique place for their child to have a birthday party.
Case, who serves as treasurer, said the board is looking for new members, because there is usually plenty of work to do.
"We're a working board, and are always interested in members who want to help the museum. We're at six members now, but it could be 13," Corey said.
Corey said he has been on the board for about four years.
"I had young kids and heard about the museum, so I joined," he said. "The board is mainly parents who want to see improvements. It's a good spot for kids to be."
After Hillman visited Wonderworks for the first time to see if her kids would like it, she ended up volunteering to serve on the board as well.
"I have two young children, and I was asked to be on the board. I'm interested in kids and the community, and want to help any way I can," she explained. "I like what the museum stands for and where it can go. It reaches out and helps parents and kids have a place to play and get out of the house."
Case said financial support from businesses and foundations around the region has been critical to their success, and is immensely appreciated.
The grants received this year so far are from Union Pacific Railroad for $5,000 for program partner support and expansion; Oregon Community Foundation for $7,800 for landscaping and replacing skylights; Northern Wasco County PUD for $3,750 to construct a utility area; and Northwest Farm Credit for $750 to help upgrade the staff's computers and software.
Wonderworks also recently received a grant to pay to have its parking lot paved. "The parking lot was paid for by the grant to also purchase the building from the Ford Family Foundation, as well as a very generous donation from JE Dunn Construction of $2,500 to help finish the paving," Case explained.
Wonderworks offers annual and daily passes. An annual pass for a family ranges from $85 to $100 per year, while day passes are $5 per person, regardless of age.
The Wonderworks Children's Museum is open year-round, four days a week. Its current schedule is Wednesday through Friday from 9:30 a.m. to 4:30 p.m., and Saturdays from 9:30 a.m. to 1 p.m.
More like this story
Latest stories
Latest video:
Mosier oil train fire
Clips from oil train fire in Mosier, Friday, June 3, 2016. by Mark B. Gibson/The Dalles Chronicle. Enlarge