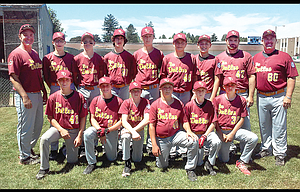 Following three consecutive losses at the start of the Babe Ruth Regional Tournament, The Dalles' 13U team finished out strong with a 9-7 victory over Meridian, Idaho on Friday, as TD jumped out to a 9-0 lead and the pitching duo of Brock LaFaver and Jace Troutman staved off a late rally to give their team its lone victory.
LaFaver, out of Maupin, pitched the first five innings to get the winning decision, and Troutman, out of Arlington, got the final six outs and was credited with the save.
"I am extremely proud. These boys gave it everything they had at this tournament," said head coach Chad Smith. "It is quite a feat to make it to regionals. These boys worked hard to get here."
On Wednesday, in first-day action, The Dalles jumped out to a four-run lead through the first four innings, but could not sustain the lead in what turned out to be a 16-4 mercy-ruled loss.
The Dalles had to face the top two seeds on Thursday, Woodland, Wash. and Belgrade, Mont., and were upended in a pair of mercy-ruled decisions.
Washington came away with a 13-0 win and Montana put up a lopsided 23-4 outcome.
Playing on consecutive days put coach Smith in a bind with his pitching staff, because if a pitcher logged 45 or more pitches, they have to rest for a day.
Offensively, TD could not get the big hits to find holes to start a rally.
"Just because they lost a few games and they were hitting the ball right at the defense, they were still working very hard," coach Smith said. "They were making phenomenal plays, they were staying in the game and they were playing their hearts out, but they just could not get the breaks."
To earn a chance to play at regionals, The Dalles had to finish first or second at the state tournament last weekend in West Linn.
With a finals berth on the line, The Dalles battled tough against a pesky Gresham team for eight innings with the score deadlocked at 1-apiece headed to extra innings.
With one out in the bottom of the eighth, Roden at third base and Petroff at second, Jaxon Pullen ripped a full-count pitch over the third baseman's head into left field for the walk-off RBI single in TD's 2-1 triumph.
Troutman tossed 93 pitches in his complete-game effort, and scattered two hits with seven strikeouts and two walks for the regional-clinching win.
Coach Smith said the defense of Pullen at second base, Carnine at third and Carson Smith at shortstop kept Troutman's pitch count low and allowed TD to get the win.
"They played great behind their pitcher," coach Smith said. "When you have a pitcher working his butt off on the mound, it is always great to have that support."
With a regional berth wrapped up, The Dalles still needed to get past West Linn in the title game, but ended up on the wrong side of a lopsided mercy-ruled finish.

In all, The Dalles team was comprised of 12 players from five different communities, with Keon Kiser, Carson Smith, William Hoover, Jaxon Pullen, Austin Agidius, Gabe Petroff and Gavin Lutgens making up The Dalles-area athletes.
Braden Carnine (Condon), LaFaver (Maupin), Troutman (Arlington), William Shute and Elijah Roden (White Salmon) made up the rest of the roster.
Having all those players from multiple areas made it tough to establish continuity with practices and hitting sessions.
However, coach Smith and his assistants, JR Pullen and Todd Numm, made it work the best they could.
"The big thing was we took players from six different teams in our league and we were playing against club teams that have been together for years," coach Smith added. "That's what they were up against and what they were facing. They did well. They played good ball. I can't say enough about their attitude and staying in it, staying positive and having fun, while playing the game they love."
Looking ahead, Smith said that this summer was about positivity and progression in the grand scheme of things.
It is not about the wins and losses, Smith's focus is on the team's runner-up state accomplishment and vaulting into regional play.
This is a good first step toward bigger things down the road.
"Everyone in the Babe Ruth program is proud of this group of athletes," Smith said. "We want them to build from this and come back next year more motivated to go even further than they did this season. We want them to come out of this loving the game even more. They came out every day playing the game the right way and leave this summer as better people. As coaches, if we can get that, we know we did our job."
More like this story
Latest stories
Latest video:
Mosier oil train fire
Clips from oil train fire in Mosier, Friday, June 3, 2016. by Mark B. Gibson/The Dalles Chronicle. Enlarge