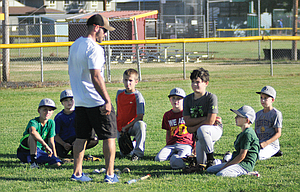 With two weeks to soak in the moment of capturing a District 5 title, The Dalles' 10U Little League All Stars embark on another journey – the Oregon State Championships starting this Saturday at Erv Lind Field in Portland with a start time set at 6 p.m. against the District 1 winners.
"I think this team will do good in this tournament," said all-star player Finley Corbin. "We want to show them that we can play good baseball. This team has to stay together, make plays and have confidence in each other. We have to go ready to do our best."
At the District 5 tournament played in Redmond, TD bolted out of the blocks with a 3-0 record to move into the championship round, but wound up losing by a 16-3 score, which set up a winner-take-all matchup the following day, on July 8, against Bend North.
Avery Schwartz went 5 for 5 with three runs scored, Nolan Cates allowed one run in three innings of relief with four strikeouts in The Dalles' 9-5 triumph in the 10U title game.
Ace pitcher Sterling Coburn allowed four runs on seven hits with six walks and three strikeouts on 74 pitches for the win.
Cates picked up the save, as he finished the last three innings with 55 pitches and scattered three hits and one earned run, on three walks and four strikeouts.
Coming back from that earlier loss to Bend showed coach Cates the amount of heart and resilience he team can muster up when their backs are against the wall.
That should benefit his group even better when the bright lights of state are beaming.
"We gained valuable experience in a tournament setting and they did great in the pressure situations," coach Cates said. "They played way better than I expected them to. They did a good job of hitting the ball and staying consistent. If we can hit the ball like we did in our last tournament and put up 10 to 15 runs every game, I think we are going to be in good shape."
In four district games, The Dalles put up 57 runs and the pitching staff surrendered just 29 runs.
One of those standout pitching efforts came in TD's district opener, as Coburn, William Booth and Cody Agidius combined for four no-hit innings in a perfect-game performance, a 29-0 mercy-ruled rout of Crook County.
While the offense is capable of putting up runs in bunches, Cates is eyeing further dominance on the mound from his main arms, Coburn, Booth, Agidius, Schwartz and Nolan Cates.
"Throwing strikes is the most important thing, because you will not have guys swinging at low balls or high balls, helping the pitchers out in a tournament of this level," coach Cates said. "These guys are smarter. We are dealing with some of the best kids in the state and they know what the strike zone is."
The Dalles fields a roster of seven 10-year olds and 6 nine-year olds for the start of state action, with Schwartz, Nolan Cates and Booth each logging the most all-star experience.
Corbin, Agidius, Coburn, Reese Kenslow, Derek Goulart, Carson Ramsay, Hudson Case, Jonah Ofisa, Trey Hodges and Joshua Brackenbury also cut their teeth at district level to show they belong.
"Even though we are young, we have players with a lot of traveling ball experience, so I think it helps them deal with any adversity or pressure that comes their way," coach Cates said. "Our younger kids are learning, getting better. I am looking forward to how much they handle it at state."
Along with The Dalles, this eight-team state tournament field is draped with talent, with the likes of Sprague, Murrayhill and Pendleton as just some of the big threats.
Before the start of district play, Coburn talked about not worrying about any outside distractions.
The team's focus should be on matters they can control, such as playing fundamentally-sound baseball against solid competition.
"We have to be able to make good plays and make good throws on defense," Coburn said. "We have to be able to hit too. We sometimes get up and then go down. If we play confident, I think we can win."
For the past two weeks, these players have been celebrated and lauded for their sportsmanship and play during district action.
Cates has seen his group approach this next phase of their season with more a business-like mentality, which should help quell any nerves or apprehension.
"They have had more practice time in the last few weeks than they have had through the whole season. They are getting more at-bats and more swings in, taking more groundballs and getting the reps, so this is like a double season for them. That is why it is an advantage."
If The Dalles can come out on top in its first game, they hit the field versus the Pendleton-District 6 winners at 6 p.m. on Sunday.
The title game is slated for 6 p.m. on Friday, July 28.
"I think we are ready. I am very excited to keep playing," Agidius said. "It is a good feeling to represent The Dalles and play our best.
"It should be fun."
More like this story
Latest stories
Latest video:
Mosier oil train fire
Clips from oil train fire in Mosier, Friday, June 3, 2016. by Mark B. Gibson/The Dalles Chronicle. Enlarge