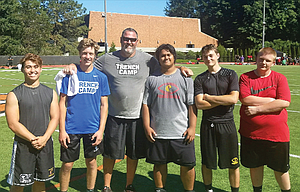 Five players from The Dalles High School had the chance to learn the ins and outs of offensive and defensive line play from former NFL players at the three-day Trench Camp put on by Lewis and Clark College from July 14-16 in Portland.
The Trench Camp coaching roster featured Portland native and NFL player, Stan Brock.
He was joined by former Minnesota Viking defensive lineman, Neil Elshire, Super Bowl champion and former Dallas Cowboy great, Kevin Gogan, San Francisco 49er star, Guy McIntyre and former Seattle Seahawk player, Manu Tuiasosopo.
Since these players possess years of big-game experience at the highest level, the Trench Camp philosophy is that the coaches in place have a unique perspective on what it takes to make a top lineman and they are willing to work with each and every camper on the finer details of each position to make sure they get the most out of every minute they're on the field.
Working with that esteemed group were incoming Riverhawk sophomores, Mac Abbas, Connor Stewart, Ryan Davis, Will Dunn and Opath Silapath.
The Dalles graduated a handful of linemen last season and there were others that did not complete the season, so establishing depth is important for varsity head coach Steve Sugg and junior varsity co-head coaches Matt Eby and Dan Telles.
The camps were held for morning and afternoon sessions from Friday to Sunday with players in full uniform.
All the TD players needed was their own shoes, shells (shoulder pads and helmets) and a fitted mouthpiece.
Through the day, the Hawk players went through a series of running drills, technique tutorials, and other fundamental aspects that are important to each specific position.
At the Wildcat Football Team Camp from June 26-29 at Linfield College in McMinnville, The Dalles had 20 players sign up and the trio of Abbas (tight end), Dalles Seufalemua (linebacker/running back) and Silapath (defensive lineman) picked up camp awards for their play.
The Dalles Youth Football Camp is opening up registration for boys and girls from the first-through-eighth grades.
The camp runs from 6 8:30 p.m. starting on Aug. 17 until Aug. 17 on Sid White Field on the campus of Wahtonka High School.
Costs to participate are $50 and includes a T-shirt.
Players are responsible for wearing cleats and having water bottles available to them.
For additional football updates and news or to inquire about the upcoming youth camp, call coach Sugg at 541-980-4594.
More like this story
Latest stories
Latest video:
Mosier oil train fire
Clips from oil train fire in Mosier, Friday, June 3, 2016. by Mark B. Gibson/The Dalles Chronicle. Enlarge