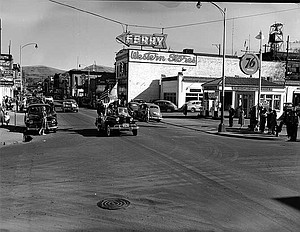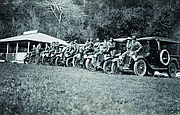 20 years ago – 1997
Oregon's road system is deteriorating faster than the state can fix it, particularly in rural Oregon, and if legislators don't approve a gas tax to pay for repairs soon it'll be too late. That was the message Gov. John Kitzhaber and Rep. Bob Montgomery took on a bi-partisan road trip this week, including a stop in The Dalles on Monday.
Army National Guard officials have returned to search mode in their quest for a new armory site in The Dalles.
MOSCOW (AP) — NASA tentatively agreed to have a U.S. astronaut train for a delicate repair mission on the troubled Mir space station, Russian officials said today. But NASA officials said no such agreement had been reached.
WASHINGTON (AP) — Portugal worked with the Swiss National Bank to launder looted Nazi gold through the central banks of the United States and Canada during World War II, according to newly declassified documents.
BEIJING (AP) — The number of North Korean children dying from acute food shortages is growing and the malnutrition rate has more than doubled over the past three months, an aid worker said today.
40 years ago – 1977
Longevity does not run in her family… "but here I am still hanging on at 101," Mrs. Ella Patton said Friday, the day before her birthday. Mrs. Patton, a resident of Valle Vista Nursing Home, was born July 16, 1876 in Salem.
Sid Britt of Echo turned in a lightning fast 5.21 second bulldogging time last night as the 1977 Ft. Dalles Rodeo reached its midpoint.
LAS VEGAS (UPI) – The deadly gas that spread through the towering Landmark Hotel and Casino Friday, killing one man and hospitalizing 138, was carbon monoxide from the exhaust of an auxiliary power generator, fire department investigators said today.
SEATTLE (UPI) – Paul Atson, 26, Vancouver, B.C., tried to cross the border for a court appearance in Seattle Friday and found himself on the horns of a dilemma. Watson, one of 32 defendants in cases resulting from protest demonstrations at the Navy's Trident base in Bangor July 4 and last Monday, had been ordered by U.S. District Court to show up for a mid-morning arraignment. But when Watson got to the border, the U.S. Immigration and Nationalization Service told him he couldn't come into the United States and show up for the hearing. Watson was told that he and the others had been arrested and charged with a crime at the demonstration at Bangor. They were told that made them nonadmissable aliens. But Watson and the others eventually were allowed to pass through and make their way to Seattle.
60 years ago – 1957
Funeral services for Rex Thornton, Dalles police chief who died Saturday, will be held at 10 a.m. tomorrow at Spencer & Libby Memorial Chapel. Members of the police force, Leonard Peterson, Robert Brower, William Mowrey, Ernest Brock, William Esson and Dalton Eggleston, will serve as pallbearers.
City Police Capt. Leonard H. Peterson was elevated to chief of police, replacing Rex Thornton, who died Saturday night, and a decision was taken to start construction of sidewalks in the West Sixth street shopping area, by city councilmen meeting last night in regular session. Peterson, 30, who has almost completed his undergraduate work at Washington State college specializing in police science and administration, has been on the police force here the past four years.
NEW YORK (UP) – A Navy jet figher set a new transcontinental speed record today. Marine Maj. John Glenn Jr. took off from Los Alamitos Naval Air Station, Calif., at 6:04:12.2 a.m. p.d.t. His F8U1P Crusader jet was clocked over the control tower at Floyd Bennet Naval Air Station here at 9:27:20.7 a.m., an elapsed time of three hours, 23 minutes and 8.4 seconds.
80 years ago – 1937
The Commodore Apartments building, four-story structure located on the northeast corner of Third and Court streets, has been acquired by the Oregon-Washington Investment company of McMinnville from the Bergman Timber company, previous owners, it was disclosed today. Although the consideration involved in the transfer was not announced here, a deed filed in the office of County Clerk Henry W. Scherrer bore revenue stamps for $33,000. The building is declared to be worth easily double that amount, however.
Two automobiles were stolen from down-town streets last night. Police quickly recovered one of the cars and apprehended the thief, but the second machine still was missing today.
Fire of uncertain origin destroyed two barns at the Paul Illingsworth ranch on Route 1 last night. In addition to the buildings, 60 tons of freshly-cut hay, a wagon, a chopping-machine and two sets of harness were destroyed. Illingsworth estimated the loss at about $3,000.
Whooping cough is now present in Wasco county. Eleven cases have been visited by members of the local health unit at Dufur during the last week. Two cases have been reported and visited in The Dalles. Cases to the number of 51 were reported in the state of Oregon during the previous week. Many cases probably exist which have not been reported. The greatest danger lies in the possibility of infection of small babies. Two cases of measles also have been seen in and near The Dalles during the last week.
100 years ago – 1917
Yesterday was the hottest day of the year. Saturday was hot enough — 100 — but that low-down contemptible Mr. Weather Man desired to make The Dalles suffer a little more and boosted the mercury up to 106 Sunday. The conscience of Mr. W. M. apparently troubled him as a result of the dirty deed, so he made today a little cooler — rather, somewhat less hot.
A Ford automobile owned by F. E. Lash of 1223 Bluff street was partially destroyed by fire at midnight Saturday night when a lantern, which was being used by Mr. Lash while he was working on the car, exploded, igniting gasoline in the tank. The cushions were burned and the car was otherwise damaged. The fire department was called, but the blaze was extinguished before the department reached the scene.
Washington, July 16. – The senate passed a resolution this afternoon directing the secretary of war to disclose the system whereby recent draft figures were obtained.
WASHINGTON, July 16. – Evidence that millions of dollars of German gold is being poured into effective propaganda work among Americans has been laid before the state department. A statesman of international reputation told the United press today that German-bought papers are being publisghed under the very nose of the American government.
It is now accepted without question that the United States, no matter what else we do in the war, must have supremacy in the air, and thereby give supremacy to the allied powers. More and more, military authorities are coming around to the view that the war will literally be decided in the air, that the side having the preponderance of air-power will win. The game is primarily to "blind the enemy's eyes" by driving his own planes, balloons and dirigibles from the air.
More like this story
Latest stories
Latest video:
Mosier oil train fire
Clips from oil train fire in Mosier, Friday, June 3, 2016. by Mark B. Gibson/The Dalles Chronicle. Enlarge