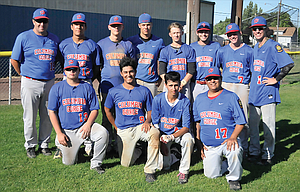 With a pair of weekend doubleheaders still left to play in the season, Columbia Gorge 'AAA' Hustlers head coach Ed Ortega discussed the summer season and the future of the program.
Although his team has gone through its share of ups and downs, Ortega is happy with the overall development this group has shown over the past two months of action.
Draped with an American Legion roster of mainly high school freshmen and sophomores, with a few graduated seniors mixed in, Ortega fielded a team that went to battle against older players from all over the state.
"We faced a lot of teams that were two to three years older than us, and with that being said, we competed very well against some tough competition," Ortega said. "We picked up so much experience and got some good competition that will definitely help us going forward."
The coach talked about the progression made by Ben Nelson, Jose Gonzalez, Dominic Smith, Jordan Wetmore, Dalles Seufalemua and Kristos Kiser, stating the future of The Dalles High School baseball is in good hands.
"We have a core of players that will be back next year playing for The Dalles and this experience will help them," Ortega said. "There is no replacement for repetitions and game play. Those guys faced some very good pitching, probably better than they will face in our league, so getting good swings and putting together good approaches is something that will benefit them."
Moving on to plans for next season, Ortega expects many of his players to come back with a solid offseason regimen under their belts.

The coach sees a lot of potential and has high expectations for this group of athletes, as he uses his coaching beliefs and experience as a teaching tool for the area's up-and-coming talent.
"Our philosophy as coaches was to teach these guys that it is not squarely focused on winning and losing," Ortega said. "We work with them on the process of what it takes to be successful. As a coach, you have to teach them to love the game and come to the field focused and ready to compete."

The season showed moments of promising results with the offense kicking multiple games of double-digit scoring numbers.
There were a handful of players who chose not to play summer ball and that meant Ortega had to mix and match nine, sometimes 10 players for doubleheaders and tournaments with a depleted roster.
Ortega and assistant coach Jeff Justesen had a positive feeling about the effort this squad put forth this summer.
"We played some of the toughest teams in the state and competed with them as best as we could," he said. "This was a great learning experience for our players and as the season progressed, we continued to mature as a group. Each player learned a lot about themselves and what it takes to compete at this level."
The Hustlers showed resiliency when dealing with college-level competition and a short roster.
Gonzalez said when a baseball team gets the right group of kids together, all pulling in the same direction, then it should be a sign of future prosperity.

"This year, we faced a lot of adversity, but in every game we played, we never gave up," Gonzalez said. "From the first game, we always came out wanting to do our best. You learn how you can handle stress and everything when you have to overcome adversity and still have a positive attitude. I can honestly say we got better and we fought until the end. I am proud of this team and look forward to all of us getting better and better with more experience."
As one of the elder statesmen on the team, along with Jacob Wetmore, Jacob Smith, Johnny Miller, Daniel Peters and Justin Sargeant, Dylon Jinkins experienced some ebbs and flows while playing with and against 6A and 5A competition in his first varsity season and in summer ball, but he was optimistic that his progress was a step in the right direction.
"It has been fun this year. I had some rough spots, but I think I did some positive things," Jinkins said. "I have learned a lot this season and how my skills translate to legion ball. I plan on being here next year and I will focus on working even harder to contribute to more wins."
In a player like Jinkins, Ortega has a blueprint he wishes other athletes can emulate.
Jinkins has a full-time job, but still makes the time to show up early for games and pitch in to help with volunteer Phil Hoffman.
They both work on the field together, preparing it for games, staying late to clean up the stands and adding extra time for maintenance on the batting cages, locker rooms and other areas.
"Dylon is a great guy to have on the team. He is quiet and hard-working, and we are glad to have him," Ortega said. "When he isn't in the game, he gets foul balls, warms up the pitchers and outfielders. He is one of those guys that does things without being asked. To have him be a part of the high school team, and not see a ton of time, and be willing to come out and play this summer, shows how valuable of an asset he is to the team and the program."
In looking at the roster, Jinkins relays a message to The Dalles High School athletes and Hustler up-and-comers.
"We have a great coach here in (Steve) Sugg and I think he has baseball going in the right direction," Jinkins said. "He just got back to baseball this year after a long time off, but once he gets things under control and has everyone buying in, he will lead them to a state championship. That's how much faith I have in him and his philosophy about the game."
More like this story
Latest stories
Latest video:
Mosier oil train fire
Clips from oil train fire in Mosier, Friday, June 3, 2016. by Mark B. Gibson/The Dalles Chronicle. Enlarge