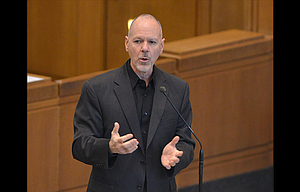 Rep. John Huffman, R-The Dalles, will not run for his House District 59 seat in 2018 — and may be leaving earlier if he is selected by the Trump administration to oversee Oregon's rural development programs through the U.S. Department of Agriculture.
"When I was first appointed in 2007 to the Legislature, I thought that, if I liked the job and my constituents liked me, that I would serve for 10 years," he said. "I will have more than met that goal if I finish out my term. I think that's what a 'citizen legislator' is all about — I don't think you are supposed to stay in an elected office for 18 or 20 years."
His district includes more than 63,000 people living in western Wasco, Wheeler, Jefferson and northern Deschutes counties. Although he has never been in the majority party during his tenure in elected office, Huffman feels that his ability to work across the aisle has enabled him to get much accomplished on behalf of his constituents. "I figured out early on that, if I wanted to get stuff done, I couldn't go to Salem being partisan and challenging the Speaker (of the House) and majority leaders," he said. "I also realized they didn't want it to appear that they were working only for Portland, so I gave them the opportunity to do things that benefitted rural Oregon."
In the 2017 legislative session, Huffman scored $745,000 in funding for Civic Auditorium restorations; $200,000 for the Mid-Columbia Health Foundation that will be used for the patient tower project; $500,000 for a joint-use facility in Mosier that will encompass a city hall, fire station and multi-use community space; $725,000 for the Spray firehall; $1 million for the Deschutes Rim Health Center in Maupin; and $593,000 for a road project in Spray.
"I go into session and do the best that I can to bring home some of the millions in tax dollars that residents of my district pay to make their communities better," said Huffman.
He was the chief sponsor of 21 bills in 2017 that became law.
"You have to figure out how to be effective; the key is relationships — a lot of common courtesy — hard work and not being afraid to be different," he said.
Huffman said serving in a public office is "incredibly stressful" because the attacks from opponents of a policy decision are often vicious, and there is pushback from Republicans when he veers away from the party's politics.
"There is often a lack of understanding about all the other stuff you are dealing with; that everything's connected philosophically and financially. Sometimes constituents don't want to hear that, or don't care," he said.
Two examples of his support for approved policies that drew GOP criticism were:
• In the 2017 session, Huffman supported Senate Bill 558, also known as "Cover All Kids," which avails the Oregon Health Plan to more than 17,000 children from families in the U.S. illegally.

• In 2011, Huffman voted in favor of Senate Bill 742 that opened the door for undocumented immigrants to attend public colleges in the state at the same tuition rates as other residents, a savings of about $20,000 per year. The in-state tuition is good for up to five years and participating students are required to attest that they have applied for legal residency, a provision aimed at ensuring they're
eligible to work in the U.S. after they receive a degree.

He took heat for these votes from people who did not believe families here illegally should receive benefits.
In the case of SB 558, Huffman said studies have shown that uninsured children are more likely to forgo necessary medical care, and more likely to have unmet medical needs, which he felt was a situation that needed to be remedied.
"They are children and they are here so I think they need to be held blameless and helped to succeed," he said. "To do this job well, you have to go with your gut, lay your vote down on the House floor and be willing to take the heat for that vote – you can't be bullied."
He said Republicans who became combative in a political system under total Democratic control usually ended up being ostracized and unable to get anything accomplished.
Because he treated House leadership and all colleagues with respect, and offered a spirit of cooperation, Huffman said he was able to establish two work groups in 2012 to establish rules for the growing use of drones by agencies and citizens alike, and to protect constitutional privacy rights.

At the table to frame these policies was the ACLU, Department of Justice, law enforcement, criminal defense attorneys, prosecutors, aviation officials and industry experts, including representatives from Insitu, a Bingen-based manufacturer of Unmanned Aerial Vehicles.
Huffman became co-convener of the human trafficking work group in 2013 and helped craft legislation to help victims and hold perpetrators accountable.
During the 2017 legislative session, which ended July 7, Huffman's three groups got the following legislation approved:
• House Bill 3047 allows law enforcement to use drones to investigate and re-create an accident scene. While Huffman was successful at passing a law that forbid the arming of drones several years ago, HB 3047 allows the use of a projectile, such as the dropping of "spheres" from drones to set backfires. Oregon State University is testing agriculture uses of projectiles, such as direct seeding and vaccinations. Wildlife agencies believe drones might help with tracking of endangered species by tagging them with GPS trackers.
• House Bill 2740 increases the age of trafficked person from 15 to 18 for prosecution of sex acts. Huffman also advocated for passage of Senate Bill 249 that establishes procedures for filing motions to vacate judgement of prosecution conviction if the defendant was a victim of sex trafficking.
Senate Bill 250, which Huffman's group supported, creates affirmative defense – an avenue to mitigate legal consequences -- if the defendant was a victim of trafficking at the time of the offense.

In the past several sessions, Huffman has worked to balance proactive use of the growing industry with people's privacy. In 2013, he crafted a bill to stop government entities from excessive snooping, requiring authorities to get a warrant before using a drone to monitor's someone's activities and setting limits on how long data could be stored, and what it could be used for.

He also sponsored legislation that negated the possibility of police or civilian drones being armed.
In addition, he made sure the state would be the sole entity to pass rules for drone use in Oregon to avoid a "patchwork" of inconsistent regulations approved by local governments.
"I just identified the areas where legislators in both parties could find common ground and then crafted policies around that," said Huffman of his successes. "I actually brought people in this session to take over these groups so we don't lose the good work we've been doing," he said.
His priorities as a legislator have been to create a business-friendly environment for the private sector, which pays the bills for public services, and relieve Oregonians of the onerous burden of excessive taxes, fees and regulations.
That has been an uphill battle, he said, in a state that seems to always be looking for new revenue sources instead of controlling spending, which makes it harder for small businesses to succeed.
"I tried the entire session to get vacant positions in state agencies eliminated to contain costs because they are budgeted for even if they remain unfilled," said Huffman. "If you pay $100,000 per position per year and you eliminate five, then you have started to save serious money; however, I couldn't get any serious traction on that idea."
Huffman said as long as Oregon leaders have the attitude that "the only thing wrong is that we need a little more money," spending will not be reined in.
He said it is standard practice for the governor and Legislature to refer to a "budget deficit" when, in reality, they have more money to work with than they had in the previous biennium, but not as much as they want to spend.
"I don't know where it ends," he said.
He possibly has one more session in early 2018 to go through, but not if he ends up taking a new position that can help Oregonians in a different way. If he is given the USDA appointment, Huffman expects to be at the new desk sometime in the fall working on behalf of rural communities, which generally have high rates of poverty and economic challenges.
He and wife, Korina, have a blended family with eight children and 18 grandchildren, so he plans to keep busy as "Grandpa."
"I turned 60 in February and I've had so much time on the road to fulfill my legislative duties, and so much time in Salem, that I am not getting to see my grandkids grow up," he said. "It's time for me to spend more time with them and let someone with a fresh perspective take my place in the Legislature."
More like this story
Latest stories
Latest video:
Mosier oil train fire
Clips from oil train fire in Mosier, Friday, June 3, 2016. by Mark B. Gibson/The Dalles Chronicle. Enlarge