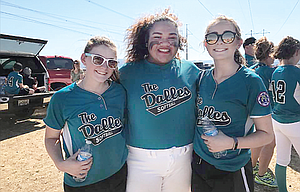 While the 2017 softball season ended with a 1-3 record at the Pacific Northwest Regional Tournament, players and coaches of The Dalles Babe Ruth 14U squad discussed the past, present and future of softball in the local area.
The eight returning all-stars had a memorable run over the past handful of seasons, claiming a regional championship a World Series berth in their time and coach Dawn Marie Hert called that core her daughters through the entire process.
"At the beginning of each game, these girls completed their cheer with one word, family," coach Hert said. "Coaching these all-star teams over the past five years has been amazing and I have gained many girls I consider my daughters along the way. They know I am only a call, text or a snap away, and if they need me, I will be there. I am truly the lucky one who gets to coach these great kids."
Of the 12, Courtney Hert, MaKenna Wilcox, Cadence Snyder and Ashely Bailey can return to play in the 14U classification next season, making the roster turnover pretty significant.
There are preliminary discussions in place to start a 16U team in 2018, this way players like Lily Eby, Bella Montesanti, Jade McCoy, Kaya Byrd, Kayla Bailey, Sydnee Byers, Mercy Iaulualo, Madison Eby, Rochelle Tilton and Brooke White can continue their competitive softball careers.
Playing these last few games at regionals gave the veterans one final glimpse, but they are not going to hang up their uniforms without voicing their desire to keep playing.
If it is the final year Madison Eby gets to play, she can only smile about the great experiences, the fun games, the chatter, the laughs, the learning lessons and the many friendships she gained in her athletic career.
"What I learned about myself was that even when you're losing, don't get down on yourself and realize that you've made it this far," Madison said. "Focus on the good things. This will help me with life and sports down the road. An example would be a job or a hobby."
The possibility of hosting the 2018 PNW Regional Tournament is also realistic, as commissioner Butch Hert said that he needs to make sure fields are secure, logistics are worked out, and that volunteers can sign on to make it happen.

"Community and business support has always been superb for past tournaments, so not concerned in this area," Butch Hert said. "This has the potential of bringing in many visitor dollars to the community and would be great for the promotion of the girls' softball programs. Obviously, we would have teams entered in each age division that shows interest."
While the age and tournament topics are talking points, the show must go on, and that means players hitting the cages, taking groundballs and improving their skills for high school play and league action next spring.
"Making all-stars has made me push super hard and the girls there give me challenges, unlike league," Snyder said. "We have been playing against each other in league, and learning from each other and then coming together for two weeks and playing in all stars, so it made my all-star experience one of the most fun and amazing experiences of my life."
With the success of the all-star teams, more girls are joining The Dalles Girls Softball Association and that means better competition, which drives the interest and level of play up even higher.
The World Series group can be happy to know they started the groundswell of softball popularity.
"These girls brought some excitement back into the local league," coach Hert said. "They showed the younger girls that a dream to make it to the World Series was possible with hard work and dedication. They proved that great sportsmanship not only gets you an award at the World Series, but it also gets The Dalles recognized on the map. They truly have paved the road for the younger girls in the community."
More like this story
Latest stories
Latest video:
Mosier oil train fire
Clips from oil train fire in Mosier, Friday, June 3, 2016. by Mark B. Gibson/The Dalles Chronicle. Enlarge