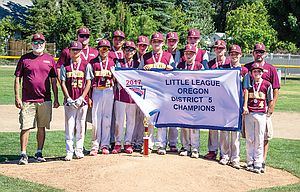 REDMOND – The emotions were high and the pressure was on.
Every pitch, every play, every at-bat made the difference between a win or a loss.
With the District 5 Little League championship on the line, a year of bragging rights up for grabs and a state berth hanging in the balance, Bend North and The Dalles engaged in a six-inning classic Saturday at the Umatilla Sports Complex in Redmond.
The Dalles 12U Little League All Stars battled back from a 14-10 deficit with five runs in the bottom of the sixth inning, capped by a two-out, walk-off RBI single by Cesar Sanchez that scored pinch-runner Andy Maney in a 15-14 thriller Saturday in a winner-take-all baseball matchup.
"Cesar Sanchez's at-bat to win the game was absolutely outstanding," said 12U slugger Nathan Hedges. "I think it was definitely a hit that will be remembered for a long time, especially for all that was on the line. It was incredible that it didn't faze him. He just saw it as another at bat. I definitely praise him on letting go of his nerves and swinging the stick like normal."
For Styles DeLeon, Braden Schwartz, Riley Brock and Nolan Donivan, this was the second straight year they have claimed district supremacy and a state qualification.
But, it wasn't easy.
Hedges hit a grand slam home run in the bottom of the fifth to give TD a 10-7 lead, but Bend North answered the call in its final at-bats in the sixth with three runs to tie it at 10-apiece and then a grand slam pushed the lead to 14-10.
It was time to see if The Dalles had one last push.
Coach Ken Brock huddled his team together, but left it up to the players to light the fire.
"It really didn't take too much from me," Brock said. "It was the leaders on the team, Kade (Wilson), Nathan (Hedges) and Peyton Beeks. They were all positive and encouraging to their teammates. That is contagious. When you see your teammates upbeat and ready to fight back, it has a way of inspiring everyone."
Faced with a four-run deficit and needing a spark to get any kind of rally going, The Dalles had its first two batters retired, on groundballs, so Diego Gonzalez was the last hope for the home team.
Gonzalez delivered a single and turned the lineup over to leadoff hitter, Kade Wilson, who stroked a single and kept the inning going for DeLeon.
In a seven-pitch at-bat, DeLeon drove in Gonzalez and Wilson with a two-run single, inching The Dalles to within a 14-12 deficit.
Hedges was then issued a walk, and with Peyton Beeks at the plate, DeLeon and Hedges executed a double steal, putting runners in scoring position.
DeLeon crossed the plate on a passed ball, making it a 14-13 margin, and Hedges represented the tying run at third base.
Beeks reached after getting hit by a pitch, putting runners on the corners. Maney was inserted at first as a pinch-runner and Hedges was at third base with two outs and Schwartz at the plate.
On the second pitch he saw, Schwartz hit the ball to third base, but the Bend North player could not make the play, so Hedges tied the score at 14-all and runners were again on the corners for Sanchez.
With an 0-1 count, Sanchez poked a single to right field, scoring Maney, vaulting TD to a 15-14 victory.
"Cesar came in clutch at a clutch moment," DeLeon said. "He's gotten better as the season has gone on, so we were confident he was going to get the job done. I couldn't be happier for him to shine in that big moment. It's a big victory for this group and monumental for our program. It's not easy to go back-to-back winning district titles. This group put in the time and effort to accomplish this."
In a game that featured 24 hits, six home runs, 10 walks and eight hit batters, there were also two ties and six lead changes though the six frames.
TD led 3-1 after one inning, but Bend North tied it up at 3-apiece, until taking a 6-3 lead in the fourth with a three-run surge.
Beeks evened the score at 6-6 after launching his fourth home run of the tournament in the bottom of the fourth inning, and Bend North regained the lead a 7-6 in the fifth.
Hedges hammered a grand slam in the bottom of the fifth, his team-leading fifth round-tripper of the tournament, moving TD ahead by a 10-7 score.
TD was behind the eight-ball after losing the first game by a 9-4 score, as Bend North erased a 4-3 deficit with six runs in the top of the sixth.
For coach Brock, to see his squad come back from that disappointment, and then fall behind late in the second game, shows a lot of grit.
"The coaches have been around these boys in Sluggers and in other programs, and in the past, and it took a lot for them to come back from being down," coach Brock said. "But, these guys really believed and they wanted it. We talk to them about flushing any adversity. It was about them worrying about the next play and making something happen. I was happy to see them respond."
Hedges was 2 for 3 with a homer, two walks and three runs scored, Beeks added two hits, one a home run, a walk, a hit by pitch and two runs, and Wilson finished 2 for 4 with a double and three runs scored.
DeLeon chipped in a 2 for 5 effort with a double and two runs, Schwartz had two hits and a walk, and both Maney and Gonzalez added a hit and a run scored apiece.
In all, TD used Riley Brock, Manatu Crichton-Tunai, Hedges, Nolan Donivan and DeLeon on the mound.
Brock lasted two innings in his start, and DeLeon finished off the top of the sixth and picked up the winning decision.
Still three days after the fact, coach Brock is amazed by the magnitude of the moment, seeing his team grow up before his eyes.
With the loud local fans yelling and screaming and showing support, the entire week was surreal.
After breaking huddle at the end of the game, fans stood in line offering high fives and hugs to the winning team.
"It gave me goosebumps. It was incredible," coach Brock said. "Our family and their friends were huge. We even had some community members that didn't even have kids that were down watching. We had so many people from The Dalles there to watch two phenomenal ballgames. It meant a lot. It was really nice to see that type of support. It is not just a short trip across town. It is a commitment. I understand that and I really appreciate it and I know it meant a lot to the boys too."
TD plays its first state game in bracket play at 9:30 a.m. Saturday in La Grande.
Latest stories
Latest video:
Mosier oil train fire
Clips from oil train fire in Mosier, Friday, June 3, 2016. by Mark B. Gibson/The Dalles Chronicle. Enlarge