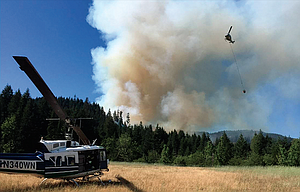 WHITE SALMON — A Type 2 fire management team was assigned to a new blaze, the Dry Creek Fire, burning near Milepost 15 of state Highway 141.
According to Klickitat County Emergency Management, Highway 141 north of Husum has been closed as crews battles the flames. A detour is in place via the BZ Corner highway.
"For firefighter safety, we are asking that the public avoid the area and use alternate travel routes," a statement released by the agency said.
Level 1 fire evacuation notices have been issued to residents of Meyers Road and Pine Flat Road, officials said.
Level 1, the first of three advisory levels, means residents and motorists should be aware of fire activity and monitor its movement.
The Dry Creek Fire was reported to Klickitat County emergency dispatch at about 11:30 p.m. Friday, officials said.
By 2 a.m. Saturday, the state Department of Natural Resources took over management of the fire.
But the blaze continued to grow, reaching an approximate size of 322 acres on Monday, prompting the agency to ask for state mobilization of manpower and equipment.
The Type 2 Team All Hazards Incident Management Team then took over command of the fire. About 385 firefighters are working to extinguish the blaze.
As of press time Tuesday, the fire was only 15 percent contained.
Fire behavior yesterday was described by Washington officials as moderate with some backing, creeping and isolated flaring. Fire continues to back down into the drainages and make short uphill runs. The primary fuels are timber, understory, litter and brush.
Crews last night reportedly finished building line around the entire fire and held and patrolled previously built lines.
Today's operations will focus on securing fire lines and cooling scattered heat spots and mopping up from the outer edges of the fire into the interior. Thousands of feet of hose line still need to be plumbed to accomplish these tasks.
Where still burning within the perimeter, the fire is expected to be most active on the west and northwest fronts.
The fire is mostly wind and terrain driven at this time.
More like this story
Latest stories
Latest video:
Mosier oil train fire
Clips from oil train fire in Mosier, Friday, June 3, 2016. by Mark B. Gibson/The Dalles Chronicle. Enlarge