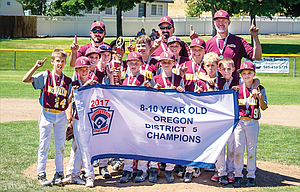 REDMOND – Psychologically, The Dalles' biggest hurdle was between the ears.
Instead of playing timid and unsure, 10U head coach Michael Cates instructed his team to come out playing against Bend North like they had nothing to lose.
Avery Schwartz went 5 for 5 with three runs scored, Nolan Cates allowed one run in three innings of relief with four strikeouts in The Dalles' 9-5 triumph Saturday in the 10U District 5 Little League championship played in Redmond.
"This was a huge win for the boys and for the program," coach Cates said. "The intimidation of Bend North had the boys playing out of their element, but they showed up and slayed the giants today."
Coming off a 16-3 mercy-ruled defeat at the hands of Bend North, The Dalles had its ace pitcher, Sterling Coburn, on the mound ready to lead his team to a win in Saturday's nightcap.
Early on, it looked as though Saturday's tilt would be a carbon copy of Friday, as Bend sent eight batters to the plate and scored four runs to erase what had been a 2-0 TD lead.
Coburn settled in and kept Bend North off the scoreboard over the next two frames, and his teammates gave him plenty offensive support with two runs each in the second and third to grab a 6-4 lead.
The Dalles' defense also showed up to make several stops throughout the game, holding Bend to five runs on 10 hits and nine walks.
In all, Bend North left 11 runners on base, six in scoring position, and had two runners thrown out at the plate.
Cody Agidius made the stop and fired the ball home to Nolan Cates at home for a force out to prevent two runs, and Nolan Cates gunned down a Bend North runner at second base to end a threat.
"Defensively, we rocked it today," coach Cates said. "We had the plays by Cody and Nolan, but Avery Schwartz had countless plays in the second game and Will Booth had a couple as well. Derek (Goulart) made a key catch in the outfield early and the outfield did a great job of keeping the ball in front of them and getting the ball in quickly."
Trey Hodges gave TD a 7-4 lead with an RBI single in the fourth and Bend North notched a single run in the home half to make it a 7-5 score.
Schwartz led off the fifth with a double and scored on a two-out RBI double by Booth, and in the sixth, Coburn reached on a leadoff single and scored on an RBI single by Schwartz to swell the lead to 9-5.
Nolan Cates faced four batters in the fifth, struck out two and stranded a runner at first, and then he faced four more batters in the sixth, recording the final two outs on a popup to second and a comebacker to end the game.
Coburn allowed four runs on seven hits with six walks and three strikeouts on 74 pitches for the win.
Nolan Cates picked up the save, as he finished the last three frames with 55 pitches and scattered three hits, one run, on three walks and four strikeouts.
"Sterling gave us three good innings," coach Cates said. "Nolan came in for us in the fourth inning and pitched three of the best innings of his life."
At the start of the second game, coach Cates said that he told his team they were a better hitting group than what they had showed earlier in its 16-3 loss.
"On the game Friday night, we let Bend North get in our heads," Coburn said. "Saturday, we came out with a positive attitude and had fun while we were playing. I felt if we worked hard and came together, we could be unstoppable."
After winning the opening toss, coach Cates chose to hit first to get the early advantage on Bend North, and it worked to the tune of runs scored in every inning, with 14 hits, four of them doubles, four walks and five batters hit by pitches.
Led by Schwartz, who went 5 for 5, the top six hitters in TD's order tallied 12 hits and reached base safely 15 times.
The bottom of the order chipped in two hits and reached eight times.
Booth went 3 for 4 with a run, Coburn had two hits, was hit by a pitch and scored twice, and Hodges went 2 for 3 with a run.
Finley Corbin tacked on a hit, a walk, and was hit by a pitch, and the combination of Jonah Ofisa and Joshua Brackenbury reached safely on three of their four at-bats, two on hit by pitches and another on a walk.
"We wanted to do what they did to us in the previous game, and that was to jump on them early and get their confidence down," coach Cates said of his choice to hit first. "The boys came out swinging and never stopped. Their energy was at a different level and they did a great job of being good teammates and picking each other up when people were down."
TD bolted out of the blocks with a 3-0 record to move into the championship round, but wound up losing by a 16-3 score on Friday, which set up a winner-take-all matchup Saturday against Bend North.
The Dalles fielded a roster of seven 10-year olds and six nine-year olds for the start of play, with Schwartz, Nolan Cates and Booth having the most all-star experience.
"It is hard to believe still that we are going to state," said coach Cates. "To be honest, I thought we would do pretty well, but didn't think we would be in the spot we are in now. The boys knew the magnitude of the situation and I think that is why we saw more tears than ever. We are excited for the chance at capturing a state title and I think this team will take the confidence from this game and continue to amaze all of us coaches and parents."
The Dalles plays its opening state game on Saturday, July 22 at Erv Lind Field in Portland with a start time set at 6 p.m. against the District 1 winners.
The championship game is slated for 6:30 p.m. on Friday, July 28.
"We definitely would love to shock the world at state," Coburn said. "We are ready for the challenge, but win or lose, it will be an amazing experience."
More like this story
Latest stories
Latest video:
Mosier oil train fire
Clips from oil train fire in Mosier, Friday, June 3, 2016. by Mark B. Gibson/The Dalles Chronicle. Enlarge