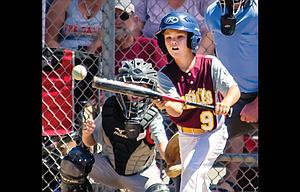 Regardless of outcome, The Dalles' 10U Little League All Star head coach Michael Cates was proud with how far his team had come over the past month in preparation for the District 5 Tournament.
TD bolted out of the blocks with a 3-0 record to move into the championship round, but wound up losing by a 16-3 score on Friday, which set up a winner-take-all matchup Saturday against Bend North.
Results were not reported before Saturday's morning deadline.
Earlier in tournament pool play, Bend North defeated TD 13-2, but had to forfeit the win due to a rules violation.
Before the roster mix-ups, TD started play last Saturday against Crook County and cruised to a 29-0 mercy-ruled victory, as the pitching staff of Sterling Coburn, William Booth and Cody Agidius combined for four no-hit innings in a perfect-game performance.
On Wednesday, TD moved into the title game after a 16-8 win over Redmond.
TD had a roster of seven 10-year-olds and six nine-year-olds, with Avery Schwartz, Nolan Cates and Booth having the most all-star experience.
In 2018, most of these names will be on other teams, but coach Cates knows the experience will pay huge dividends down the road.
"They have put themselves in a position to play at this stage again next year and it will only help them," coach Cates said. "These kids are going to have a chance to be the leaders next year and they will be teaching the younger kids how to compete. Some of them are getting it and they are competing hard out there and some will learn. They are getting there."
Latest stories
Latest video:
Mosier oil train fire
Clips from oil train fire in Mosier, Friday, June 3, 2016. by Mark B. Gibson/The Dalles Chronicle. Enlarge