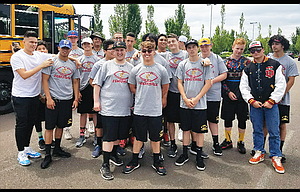 With summer activities heating up, The Dalles head football coach Steve Sugg fielded a group of 20 athletes for a week of fundamentals at the Wildcat Football Team Camp from June 26-29 on the campus of Linfield College in McMinnville.
"We had a good group of kids go out there and work a little bit on football, which was nice for them," Sugg said. "You always want to give your kids an opportunity to improve their game under the instruction of college coaches who have been around the game for many years."
In addition to the Linfield football staff, several former Linfield coaches and players, who are now coaching in the high school ranks, along with other guest high school coaches, provided instruction and aided with camp leadership.
A few of the focal points revolved around continuing to emphasize team development, whereas individual skills were worked on at the individual skills clinic, giving the players a multi-faceted aspect to everything in the sport.
"I think it is good for them to hear a different voice out there, telling them pretty much the same things our coaching staff does through a year of practices and games," Sugg added. "Learning your position or your responsibilities on a certain play is all about repetitions and muscle memory. They leave here ahead of the game on that end for sure."
At the four-day camp, there were 16 teams total in attendance with more than 1,000 kids on the field from 6A to 3A programs from across Oregon, Washington and California.
Taking home Wildcat All-Camp awards for their all-around play were Mac Abbas (tight end), Dalles Seufalemua (linebacker/running back) and Opath Silapath (defensive lineman).
"We had 20 kids out of the thousand that were there, so to have three get camp awards says a lot about the skill set we have here," Sugg said. "I am proud of those three. They have put in the offseason work and were rewarded for it."
Sugg announced the opening of his annual youth football camp for boys and girls from the first-through-eighth grades.
Players learn the fundamentals from Sugg, his coaching staff and former and current players.
The three-day camp runs from 6-8:30 p.m. on Aug. 17-19 at Sid White Field on the Wahtonka High School campus.
Costs are set at $50 for each kid and registration fees get a free t-shirt.
For more information or to volunteer, call coach Sugg at 541-980-4594.
Latest stories
Latest video:
Mosier oil train fire
Clips from oil train fire in Mosier, Friday, June 3, 2016. by Mark B. Gibson/The Dalles Chronicle. Enlarge