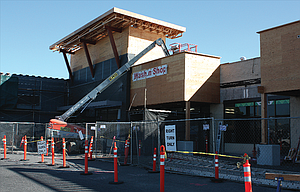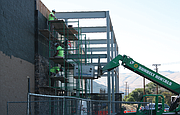 A major renovation project is moving along as scheduled at the Cascade Square Shopping Center in the 1400 block of West Sixth Street.
Work on the 1970s-era mall, which rosters nearly 20 different businesses, began in April and is expected to wrap up in September.
"We're on target, with a grand opening planned for Sept. 15," said David Zimel, president of Portland-based Mercury Development, which owns the mall. "We should be done by then."
Mercury Development is a Portland-based firm that acquires, develops, and manages a variety of commercial investment opportunities in the Northwest. The mall already looks quite different, but the full scope of the overhaul won't be clear until the work wraps up.
According to Zimel, Mercury is putting about $4 million into the project, which will feature individual storefront identities, completely new landscaping, enhanced and energy efficient lighting systems, and a backlit glass tower at Jo-Ann Fabrics that will be especially appealing in the evenings.
"We've gone vertical significantly above the old lines, and we'll be very noticeable from I-84," Zimel said.
"Especially at night with all the new lighting. There will be lighting on the buildings and we'll have some upward lighting along the sidewalks. It will have a nice glow to it."
"I am excited to see the finished project. It will be nice to have a fresh new look to Cascade Square, and I hope others will follow suit," said Mindy McHale, co-owner of Hire Electric and chair of the Board of Directors of The Dalles Area Chamber of Commerce.
According to Zimel, reducing the amount of energy required to light the mall is also in the works.
"The lights will go from sodium lighting to LED, which will result in great savings," Zimel said. "That will benefit our tenants, no doubt, because they pay their own energy bills. It will be a lot brighter, safer, and more energy efficient."
Zimel pointed out that roughly 16,000 vehicles pass by the mall every day, and that is one of the reasons for investing in Cascade Square.
"The mall hadn't been remodeled since it was built in the 1970s," Zimel said.
"Our goal is to make it the best-looking center in the Dalles. We want to make customers eager to shop there and the city proud of it."
"This is what economic development is truly about, when an owner believes and invests in our community," said Lisa Farquharson, president and CEO of The Dalles Area Chamber of Commerce.
Mayor Steve Lawrence said the fact the development company is investing so much in the mall shows that business development experts see The Dalles as an increasingly important center of commerce.
"The renovations are very welcome. This helps develop the economy in an area other than just downtown," Lawrence said.
"I believe they would not be investing in our community this way if they were not positive about our economic growth and strength."
Farquharson expressed enthusiasm for the mall project.
"It is exciting to see this transformation taking place at Cascade Square Complex, and I appreciate the investment into our community by Mercury Development," Farquharson said.
"I feel that this change will not only improve the look and feel of the west end, but pull travelers from the freeway into our community."
"The updates to Cascade Square are a positive sign for our community. It will transform the retail center and encourage other business owners to invest in their properties, too," added Nan Wimmers of Columbia Gorge Real Estate, the outgoing chair of the chamber's board.
Cascade Square's current tenants include Pizza Hut, Sally Beauty, AT&T, Kobe Hibachi Sushi, Springleaf Financial, Perfect Look, C.T. Nails, Wash N' Shop, Dollar Tree, Grocery Outlet, Maurice's, Jo-Ann Fabrics & Crafts, Rite Aid, Rent-A-Center, Dutch Bros. Coffee, Rivermark Credit Union, and a Wells Fargo Bank ATM kiosk. Cascade Square also currently has retail space totaling 8,000 square feet that is available for lease by a new tenant.
"We've remodeled five or six shopping centers and always had good results. This is by far the most expensive we've ever remodeled, but think it will be the most dramatic," Zimel explained.
"We ripped out the sidewalks and are coming back with colored and imprinted concrete. That'll be kind of fun. We're redoing all the landscaping for the center and bringing the irrigation system to working order." LCG Pence Construction of Portland is the general contractor on the project.
More like this story
Latest stories
Latest video:
Mosier oil train fire
Clips from oil train fire in Mosier, Friday, June 3, 2016. by Mark B. Gibson/The Dalles Chronicle. Enlarge