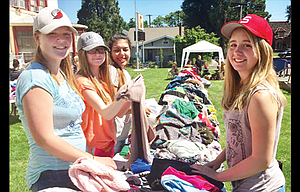 In cheerleading, much like any other sport or activity, having all the necessary equipment needs met can prove to be costly.
Some estimates run as high as tens of thousands of dollars per school year, when including camps, clinics, uniforms, poms, costumes, clothing and other costs. Those numbers quickly add up through the course of a year.
That is why, during the summer months and at different times during the school year, fundraising has become as or more important than the activity itself.
Last weekend, on June 23-24, The Dalles cheer team withstood 90-degree temperatures on the front lawns of The Dalles High School for its annual rummage sale and raised $2,600 over the two days.
All the money goes directly into the cheer team members' personal accounts for the upcoming NCA 'Get Shocked' camp held at Oregon State University from July 10-13.
"The community was very supportive like every year," said TD cheer head coach Kelsey Sugg. "I couldn't have made my fundraiser possible without the help of my cheerleaders and the parents, especially Beverly Nañez, who has been my right-hand man in helping make it possible for the last three years."
According to an ABC News report, most high schools budget an average of $3,500 a year for cheer programs, so most of the funds are drummed up through various fundraising efforts.
In entering her senior campaign, Kendyl Kumm knows the history and background of making the ends meet.
She is very appreciative of the team effort it takes to make this a successful venture.
"The yard sale was a huge success this year," Kumm said. "I think a lot of girls made most of their money for camp with this fundraiser. A lot of people seem excited when they find out the fundraiser is helping our cheer program. It's really nice knowing that the community wants to help us cheerleaders out."
While TD's team has 10 returners from last year, 30 newcomers and one male participant are on the roster for Sugg and junior varsity assistant Alli Miles.
Of course, the Riverhawk cheer team is involved in sports activities, representing school pride and support for the community.
That is why being involved and having fun in a team setting, while also reaching out to the community, is extremely important.

"I want this team to feel like family to each one of the girls and I want to make this new cheer season memorable," said senior Shiva Patel. "I believe this team has so much potential, and I know with hard work and dedication, we can be successful."
The Dalles is tentatively scheduled to host its car wash at the end of July.
Sugg added that the team is working concessions at Quinton Street Ballpark for legion games and all those proceeds go directly back to the program.
To get more news or to donate, email the coach at kelseyesugg@live.com.
More like this story
Latest stories
Latest video:
Mosier oil train fire
Clips from oil train fire in Mosier, Friday, June 3, 2016. by Mark B. Gibson/The Dalles Chronicle. Enlarge