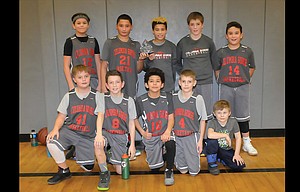 At a recent AAU tournament played in Hermiston, sixth graders from the Columbia Gorge Basketball Academy went winless in four games.
This past Sunday at the Gorge Hoops Invitational, this group, coached by Ken Brock and Phil Hukari, left nothing to chance, going 5-0 with an average margin of victory of 19.6 points to capture championship honors.
Brock said there were a lot of learning lessons taken away from that Hermiston tournament.
"You always get put in check. You play in the right tournaments, there is a chance you will be put in check and you get the wakeup call," Brock said. "No matter how great you are, somebody has a chance to beat you. That is what we strive for. We want to be that team that will upset somebody else. It is always a constant thing for us coaches to be pushing them to push themselves and each other to get better to pursue that greatness level."
Entering tournament action, this sixth-grade group had the game plan of running up and down the hardwood and using their defense to create offensive opportunities.

On the team was Riley Brock, Styles DeLeon, Manatu Crichton-Tunai, Sam Rogers, Tyler VonSlomski, Jack Morgan, Braden VanSickle, Osbaldo Lopez and Fernando Ayala.
In the title game against White Salmon, The Dalles had seven different players score points and nine pull down rebounds in a 40-17 triumph.
DeLeon and Lopez scored 11 points apiece, Riley Brock had eight points, five rebounds and seven steals, Morgan totaled four rebounds, and Crichton-Tunai added four points and four rebounds to lead the charge.
Getting consistent contributions from every player on the roster proved to be the difference in this team's overall performance.
"Our bench players stepped up and our first-year guys stepped up and put in some quality minutes when they were asked to," coach Brock said. "You can't beat a team with just five guys, you need everyone on the team contributing and that's what we got in this tournament."
TD started pool play with a 41-20 win over White Salmon, and then beat Goldendale, 44-23.
Bracket play was a carbon copy of what occurred in pool play, as TD steamrolled Goldendale in the quarterfinals by a 44-24 margin, as DeLeon tallied 23 points and 11 rebounds, Crichton-Tunai had nine points and 12 rebounds, and the trio of VonSlomski, VanSickle and Ayala added two points each.
Against Dufur in the semifinals, Riley Brock had eight points, eight rebounds and three steals, Crichton-Tunai was good for six points and four rebounds, and DeLeon had four points, 10 rebounds and five steals in a 27-14 win.
Even though The Dalles fell short of its 40-point-per-game average, Crichton-Tunai lauded the play of the defense, which held a dangerous Dufur team to just five field goals.
"We got a pretty good defense," Crichton-Tunai said. "We got a lot of steals, a lot of rebounds and made plays."
For the tournament, DeLeon, Crichton-Tunai and Riley Brock combined for 26.8 points, 20.4 rebounds and seven steals a game.
Success is nothing new for many of these players, as they have won championships in baseball and football, and with this hoops tournament crown to their credit, Crichton-Tunai says the goal of continued success in every sport is well within reach.
"We have a lot of potential," Crichton-Tunai said. "We can be very good if we can keep practicing, playing hard and talking. I am very excited. I want to thank coach Ken and coach Phil for helping us in our games."
This group plays again for The Dalles Winter Classic starting on Feb. 18 and ending on Feb. 19.
Latest stories
Latest video:
Mosier oil train fire
Clips from oil train fire in Mosier, Friday, June 3, 2016. by Mark B. Gibson/The Dalles Chronicle. Enlarge