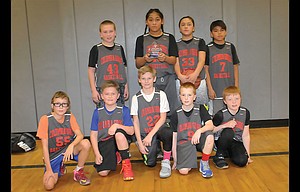 When a team outscores opponents by a 192-43 margin, chances are good that tournament success will follow.
That is exactly what the Columbia Gorge Basketball Academy fifth-graders put forth in scoring four consecutive wins and a tournament title at the inaugural Gorge Hoops Invitational ending Sunday at The Dalles Middle School.
Post presence Andre Niko passed all the accolades to his teammates, rather than taking any credit.
Along with Niko, this formidable group featured Henry Begay, Nolan Donivan, Tristan KuKu, Sam Shaver, Cooper Cummings, J.J. Johnstone, Olsen Meanus and Calvin Floyd running up and down the floor, dominating on both offense and defense.
"It is all about teamwork and it is not just about one individual player," Niko said. "We have been working really hard to get to this point and get that trophy. It is so great for all of us to see everything pay off."
The Dalles team had its closest game of the tournament on Saturday, a pool play game against Hood River Valley, which was a 45-17 victory.
After that win, TD added a 43-8 romp over the White Salmon Kodiaks to go undefeated as the No. 1 seed in Sunday's bracket play rounds.
In the semifinals, The Dalles kept rolling, forging ahead for a 53-10 win over Hood River Valley to vault into the finals.
The two teams would battle it out again with a championship on the line in this double elimination tournament.
Niko scored 16 points, Cummings notched nine, Begay had eight points, and the duo of Olsen Meanus and Nolan Donivan totaled seven points in a 51-8 triumph for the championship.
"They dominated," said head coach Greg Cummings. "Those kids are tireless. They can play, no matter how long the game is, they work hard and they give everything they have. Up 20 or down 20, they gave us every single ounce of energy they had."
Finally able to soak in this 15-team basketball extravaganza, Cummings expressed pride in how everything flowed seamlessly, adding compliments to volunteers, officials, fans, players and coaches.
His best memory came in pool play where Hood River Valley and White Salmon engaged in a triple overtime classic.
Coach Cummings, who officiated the game, said the middle school gym sounded like a high school gym with fans on the edge of their seats, cheering on these young warriors.
"To me, that is what made this entire weekend worth it," Coach Cummings said. "Just to see those kids' faces, that was fun to watch. I know that game was my biggest memory, and I know those kids will be talking about that game for many years."
With 40 players, spanning four teams for CGBA, Cummings saw a glimpse of what could be a promising future for The Dalles basketball and basketball in general, across the gorge.
"You can see, our program has come a long way in the last couple of months and we have come a long way in the last four years since we started the basketball academy," Coach Cummings said. "The level of talent is there every year. It is just a matter of bringing it all together and gelling each individual kid together for a common goal."
With a month to prepare for another tournament in The Dalles on Feb. 18-19, Niko still sees areas the team can improve on, so it is back to the lab to work on those details.
"What we need to do is practice more fast breaks and play better defense because in our last game, our defense was slightly off a little bit," Niko said. "We can get better everywhere, but defense is important."
More like this story
Latest stories
Latest video:
Mosier oil train fire
Clips from oil train fire in Mosier, Friday, June 3, 2016. by Mark B. Gibson/The Dalles Chronicle. Enlarge