Wednesday, January 18, 2017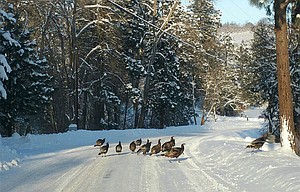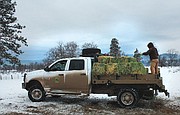 Winter is a hard time of year for wildlife, but feeding deer can bring health problems that threaten their lives, said Jeremy Thompson, biologist with the Oregon Department of Fish and Wildlife's office in The Dalles.
He said deer digestion is a finely tuned physiological process that changes with the seasons. Animals are conditioned to fatten up on high-protein vegetation during the fall months to prepare for food scarcity in the winter.
Their digestion system requires several weeks to adapt to the right combination of microorganisms, enzymes and pH to accommodate the winter diet of woody vegetation, such as tender tree branches, buds and shrubs.
If deer are given alfalfa, corn or some type of supplemental food, Thompson said they can experience gastrointestinal distress.
In addition, he said supplemental feeding draws concentrated numbers of deer together in a small area where nose-to-nose contact enables the spread of infectious diseases.
"People kill more deer than they save by feeding them," he said.
ODFW does feed deer and elk at the White River Wildlife Area, which extends over 32,000 acres on scattered lands from the community of Friend to the Warm Spring Reservation border in south Wasco County.
However, Thompson said hay given elk and protein pellets fed to deer are doled out for weeks ahead of winter so the animals are acclimated to the food source.
He said game animals are taken care of in the wildlife area to keep them from wandering onto area farms and destroying crop land.

Deer fed in residential areas become urbanized, he said, and end up eating non-native plant and shrub species that are not good for them.
"Urban landscaping is kind of a 'candy store' for deer — everything tastes good but it's not really good for them," said Thompson.
He said while some people want to encourage deer to dine on their properties, that can create conflicts with neighbors who don't appreciate losing their plantings to wildlife.
An added deterrent, he said, is that deer who lose their fear of humans can become aggressive.
ODFW can teach people who live on large swaths of land what types of vegetation to plant that can provide nutrition for game animals during the harsh winter months, said Thompson.
"There are always opportunities to better our habitat," he said.
If ice covers the snow and cold weather continues into February, he said deer populations will be struggling because their fat reserve is depleted and some will die. He said natural selection needs to play out even if it is difficult for people to refrain from interfering.
"At that point we need to let nature takes its course," said Thompson.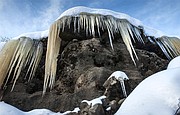 During cold weather, he said deer dig out resting areas under trees where they can stay relatively warm.
"As long as they aren't disturbed they'll go back to that area every day," said Thompson.
He said people should stay away from deer habitat because preserving calories is key to their survival so when they are frightened and run, they waste those calories.
"Winter is a tough time for every species," said Thompson.
When people start feeding songbirds for the winter, he said that practice needs to continue throughout the season because some species might not have migrated after finding a food source.
Thompson said landowners can plant different types of shrubs and trees that provide adequate nutrition for birds year-round.
"It's really better when people watch wildlife from a distance and don't interact with them," he said.
Thompson can be reached for more information at 541-296-4628.
More like this story
Latest stories
Latest video:
Mosier oil train fire
Clips from oil train fire in Mosier, Friday, June 3, 2016. by Mark B. Gibson/The Dalles Chronicle. Enlarge