Thursday, January 12, 2017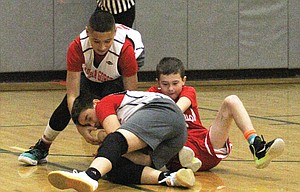 Over the past two months, six youth teams representing the Columbia Gorge Basketball Academy have been putting in countless hours of work in preparation for some competitive hardwood action – four of these teams will get to have their game showcased this weekend.
At long last, the wait is over.
Starting Saturday, the CGBA hosts 16 other teams from across the area in the two-day inaugural Gorge Hoops Invitational at Kurtz Gym and The Dalles Middle School, the first of its kind in the community.
"I'm super excited to see our boys play. I know the boys are equally excited as well," said CGBA president and coach Greg Cummings. "They've worked so hard in practices and scrimmages over the last two-plus months. We've already had several of the tournaments that we were supposed to attend be canceled due to weather, so for many of our boys, this will be their first real tournament basketball action."
Tournament players range from fifth-through-eighth grades and hail from Hermiston, Dufur, The Dalles, Hood River, White Salmon and Goldendale.
Games are slated to start at 9 a.m. on Saturday in pool play matchups and action starts at 8 a.m. on Sunday for bracket play, and going throughout the day on both days.

All of Saturday's games will be played at The Dalles Middle School, and games Sunday will be played at both TDMS and on the campus of The Dalles High School at Kurtz Gymnasium.

On Saturday, each team will play two pool play games for each division to determine seeding.

Seeding is based on overall record, head-to-head games, point differential and points scored, in that order.

Double elimination bracket play kicks off on Sunday until the championship games.

Trophies will be handed out to the team that wins each division on Sunday.

"Spectators are encouraged to come and support these young people," Cummings said. "They've been working so hard the last couple of months and I want to see their hard work pay off."
TD suits up 40 players at all four levels, so there are four teams donning CGBA colors.
The fifth and sixth grade teams played a tournament in Hermiston in December with the fifth-grade team going 3-2, while the sixth graders were winless in four tilts.

Earlier last month, the seventh-grade group scrimmaged a team from Hood River and lost, and the eighth-grade squad has yet to play a game due to cancellations.

"We're looking for some big things out of the fifth and sixth grade teams in this tournament," Cummings added.
"Both the seventh and eighth grade teams have been practicing hard and as often as gym space becomes available. They work extremely hard, so I'm excited to see how all their hard work pays off."
Henry Begay and Nolan Donivan lead the fifth graders, with both using their speed to push the ball up the floor, along with their leadership by example. Andre Niko is a dominant low-post player, who can be an unstoppable force in the paint.
Tristan KuKu, Sam Shaver, Cooper Cummings, J.J. Johnstone, Olsen Meanus and Calvin Floyd make up the rest of the roster for coach Cummings.
"They are a very fun team to watch and I'm really anxious to see how they will continue to progress and what kind of impact they can make when they get to high school," coach Cummings said. "They get up and down the court quickly, they full court trap and full court press the entire game. They can create offense by a smothering defense. It's truly a sight to see."
The coaching duo of Ken Brock and Phil Hukari present one of the scariest teams in the CGBA ranks, the sixth graders, who are headlined by the trio of Braden Schwartz, Riley Brock and point guard Styles DeLeon.
Rounding out the rest of the group are Evan Baldy, Manatu Crichton-Tunai, Sam Rogers, Tyler VonSlomski, Jack Morgan, Braden VanSickle, Osbaldo Lopez and Fernando Ayala.
Just like the fifth graders, the sixth-grade group likes to get up and down the hardwood and they let their defense create offensive opportunities.
"Both coaches take a lot of pride in their kids and what they put out on the floor for games," coach Cummings said of coach Brock and Hukari. "They have kids on the team of all different talent levels, so getting every player coached up is an important key."
Another solid all-around team coach Cummings can't wait to see lock horns with the likes of Hood River, Hermiston and White Salmon are the seventh graders, who are led by Jaxon Pullen, Tristan Bass, Shane Floyd and Chase Sam.

The added depth of Jameson Woodside, Peyton Beeks, Gabe Petroff, William Hoover, Rowan Simpson and Austin Agidius will all get their first taste of tournament play this season, so coach Cummings and assistant Jim Taylor are hoping to mesh the talent levels with hopes of hoisting tournament gold.
"I know the talent is there, but it will be a matter of whether or not these guys can put it all together for an entire game," coach Cummings said. "For most of the players, this is their first year playing competitive basketball. We have talent of all levels on this team and these kids are great to be around and a lot of fun to coach."

Coach Cummings also gets a chance to lead the most diverse group of athletes in the CGBA, the eighth graders, who have kids from The Dalles, Dufur, Ione and Moro on the bench.
Hunter Padberg, Gavin Cates and Conner Cummings highlight this group, and they are supported by standouts such as Kenape Stewart, Ian Anderson, Spencer Taylor, Dylan Jones, Andrew Suppah, Josiah Dave and Wade Fields.
"It will be interesting to see these kids play in a real game together," coach Cummings said. "They are super-talented, super-competitive and I think they will do great this weekend if they can gel quickly."
For Cummings, his program philosophy is simple, yet precise, as he said the one constant thing that goes across each team is that if they give 100 percent while they are on the floor, they will compete with just about any team around.
"No matter what your talent level is, we can get you to the next level," coach Cummings added. "If you want to be a college basketball player and are willing to put in the work, then we can get you there. If your goal is just to increase your skill level, we can do that too. If there are kids not playing, but want to come and see what we are all about, this is the perfect opportunity to come and watch."
Cummings has worked well, schedule-wise, with the Northern Wasco County Parks and Recreation Department and he thanked them for being flexible with their basketball schedule to allow the tournament to occur.

He also gave a tip of the cap to Sandra Harris, The Dalles Middle School and The Dalles High School athletic director Mike Somnis for use of their facilities.

"Without the help and cooperation of both organizations, we wouldn't be able to host this," coach Cummings said. "I'd also like to thank all the countless volunteer hours that go into pulling off a large tournament like this."
All games will be scheduled on the Tourney Machine application through the official website, www.tourneymachine.com/R26328.
Fans can download the application to their smartphone to stay up to date on scores, pool play standings and bracket play games.
Admission is $5 for adults and $3 for students over 5 years old. Children 4 and younger are free.
There will be t-shirts for sale as well as concessions that go to The Dalles Little League.

All money raised through admissions is evenly split between TDMS Athletic Fund and the CGBA.

Another tournament is set for February 18-19 at the same locations.
More like this story
Latest stories
Latest video:
Mosier oil train fire
Clips from oil train fire in Mosier, Friday, June 3, 2016. by Mark B. Gibson/The Dalles Chronicle. Enlarge