Saturday, February 25, 2017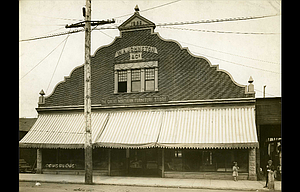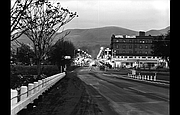 20 years ago – 1997
Thomas Motors has purchased the former Safeway building. What does the future hold for the acquisition? "No comment," says Dave Thomas. "Other than to say that we will be making improvements there for the good of downtown."
Much of the world has entered the computer age, and the agriculture industry is no exception, according to Jake Grossmiller, manager of Cascade Ranchers. "We're seeing farm machinery stepping into the electronic age," said Grossmiller. "Our tractors, by and large, are computer controlled as far as fuel delivery and transmission control. It's like cars today, but now we're seeing it come into the farm industry as well, making it far more efficient and user friendly." An increase in the size of the equipment is both augmenting the amount of production and decreasing the amount of human labor required, he noted.
A Chinook helicopter from Portland's 304th Air Rescue Squadron was forced to make an emergency landing Tuesday night shortly after 9 at The Dalles Municipal Airport when it began to rapidly lose fuel. The fuel loss was the result of problems with a mid-air refueling exercise with a C130 airplane.
40 years ago – 1977
Resumption of the 1976-77 Contemporary Lecture Series locally will be marked by the appearance here Friday morning, March 4, of Dr. William Montagna, director for the past 13 years of the Oregon Regional Primate Research Center. Dr. Montagna's lecture, titled "Nonhuman Primates – Our Poor Relatives," will touch on the evolution, diversification, biological properties and the natural history of primates. A native of Italy, the speaker received his A.B. degree from Bethany College and his PhD degree in Zoology from Cornell University.
The last Sunday in April is the date set for their annual Trail Ride and Pancake Feed by the Ten Mile Saddle Club at their February meeting. Plans are being made for a Deschutes tour.
United Press International – News reports from Kenya today said up to 1,000 Cuban troops have been stationed in Uganda, where President Idi Amin has barred some 200 Americans from leaving the country until they attend a forced meeting with him next week. The unpredictable Ugandan leader has ordered all Americans to remain in the country and to meet with him Monday. He denied today that the Americans, mostly missionaries, were being held as "hostages." In a report from the Ugandan capital, the Nairobi Standard cited "reliable sources" in reporting that a high-level Cuban military delegation had arrived in Kampala to discuss with Amin the possibility of providing more military personell and hardware, presumably to deal with reported coup plots that have led to a recent series of bizarre events in Uganda.
60 years ago – 1957
Currently in the process of construction is a 75x120 foot concrete-block structure being built by Hudson House Inc. as an extension of their present warehouse facilities located between First street and the alley north of First in the block bounded by Federal and Laughlin streets.
The play "Little Women" will be presented Friday and Saturday nights by members of The Dalles Junior High Dramatics club under direction of Mrs. Vivienne Ferguson.
HOOD RIVER – Reported to be the first of its design ever constructed, a tugboat with a 9½-foot propeller slid down the ways at Nichols Boat Works Co. here this morning and splashed into the boat harbor. The average towboat propeller measures from 50 to 60 inches, a company official said. The big propeller craft was ordered by Albert Bernert of Sheppard Towing Co. of St. Helens, Ore. The company apparently feels it will get more push for its log towing operations, the official said. The new craft is powered by dual 600 horsepower GMC engines. Some dredging will be required in getting it out into the river channel, a company official said.
80 years ago – 1937
Try a machineless permanent. Zotos Ja'Mal and Vapor Marcel are real oil waves. Davis Beauty Shop, phone 856-W.
"When he stooped down I give it to him." That remark, assertedly made by Dave Jones, now on trial in circuit court here on a charge of murdering his brother, Owen, produced a sensation at this morning's court session. It was regarded as the most damaging bit of testimony thus far introduced at the trial. The words came from the witness stand this morning as Ellis Jones, another brother of the defendant, was relating a conversation he had with Dave following the latter's arrest. The conversation took place, Ellis said, in a cell of the county jail on the Monday following November 4, 1936, the day Dave Jones Is alleged to have shot his brother on a ranch in the Tygh ridge district, beat his victim over the head and then burned the body in a hay shed.
WAUKEGAN, Ill., Feb. 26. (UP) – Sit-down strikers surrendered the Fansteel Metallurgical corporation today under a barrage of tear and knockout gas bombs hurled by 60 sheriff's deputies. For more than an hour the attackers, enforcing two court orders previously defied by the sit-downers, poured gas into the two occupied buildings from a specially-constructed "gas gun tower" mounted on a truck. In the first barrage one man jumped from a second story window and staggered away. More than 100 strikers seized the plant February 17 to enforce their demand for collective bargaining and recognition of their union, Amalgamated Iron, Steel and Tin Workers, which is an affiliate of John L. Lewis' Committee for Industrial Organization.
100 years ago – 1917
A musical recital was given in the auditorium of the St. Mary's academy last week. The rendition of the programme was most successful. Each participant acquitted herself creditably and proved herself master of the selection executed. The many patrons and friends of the institution present for the occasion were unanimous in pronouncing the recital a marked success.
Service between Portland and The Dalles will be resumed March 1 by the Regulator line, announcement being made yesterday by D. C. O'Reilly, head of the fleet, that the steamer Dalles City would be started that day from Alder street dock, states the Oregonian.
The death of General Funston was a great loss to the civilian population of the United States as well as to the army. General Funston was a fighting man and a genuine American. Disappointed in his desire to enter West Point, he went on fighting everything he ran across that needed to be fought.
WASHINGTON, Feb. 26. – President Wilson today asked a joint session of congress to give him authority to arm American merchantmen and take other means necessary to protect American lives and interests on the high seas. The president wants to effect a patriotic union of all opposing forces so as to present a united front to Germany. He did not ask congress for a war declaration. He merely wants armed neutrality. He said diplomatic means failed to preserve the rights of neutrals against Germany's unwarranted infringements.
More like this story
Latest stories
Latest video:
Mosier oil train fire
Clips from oil train fire in Mosier, Friday, June 3, 2016. by Mark B. Gibson/The Dalles Chronicle. Enlarge