Friday, February 24, 2017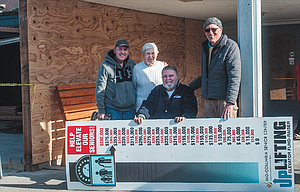 The Uplifting Elevator project at the Mid-Columbia Senior Center has been eight years in the making, work has begun, and the committee overseeing the project has met its $400,000 goal and took down the "fundraising thermometer" on Wednesday.
The final $5,000 came from a Toyota grant of $2,500 matched by $2,500 from Griffith Toyota of The Dalles, said committee chair Joan Silver.
The project was funded by eight grants and an estimated 150 individual donors, said Silver.
"We want to really thank all those who donated to the project," she said. "Watch the progress as we move toward completion."
The center's original design called for an elevator, said Silver, but there weren't enough funds available at the time. Currently, people walk down an outside stairway to the daylight basement.
Tom Bailey, a member of the committee who uses a wheelchair, was pleased to see the elevator going in. His father was a member of the original committee that planned the center, and remembers when the elevator was dropped from the initial building plans.
He, too, thanked the many people who have helped make the project a reality.
"Joan Silver has rounded up quite an army to get this going," he said.
He said the elevator would greatly increase use of the building by tying the upstairs and downstairs together.
"We have a real nice area downstairs that we have not been able to fully use. Now we can have events that use the upstairs and the downstairs together, instead of one area or the other," said Bailey.
As the fundraising thermometer was removed from the front of the building, Silver noted the sign had been donated by Meadows Advertising of The Dalles.
She also thanked the general contractor for the project, Jeff Cochenour of Cochenour Builders Inc., as well as the many volunteers who have helped over the years.
"There has just been tremendous support from the community, hundreds of people have come together to make this happen," she said.
The first phase of construction to frame in the new addition to the front of the building, north of the entrance, is already well underway, and a hole is currently being dug where the elevator will be located.
"Please watch out for the workers and equipment," asks Silver.
"If a suitable handicap parking space is not readily available, have someone come into the building to let us know and we will assist."
The project, though disruptive, will be worth waiting for, she said.
"It's just going to make totally usable, leasable space. Everything will be enclosed so people can go downstairs without going out into the weather," she said.
More like this story
Latest stories
Latest video:
Mosier oil train fire
Clips from oil train fire in Mosier, Friday, June 3, 2016. by Mark B. Gibson/The Dalles Chronicle. Enlarge