Wednesday, February 22, 2017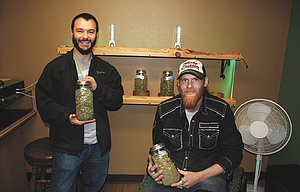 The marijuana business in The Dalles is expanding. On Feb. 2, a new recreational marijuana outlet, Three Kings Organics, opened at 224 Terminal Ave. in The Dalles, just down the street from Enterprise Rent-A-Car and Tum-A-Lum Lumber.
The budding business, co-owned by Jim Wilson, Jeromy Posey and Jim Olheiser, plans to hold a grand opening with live music Saturday, Feb. 25.
The festivities will run from noon until 8 p.m.
"We're just getting going," said Wilson, who lives in Mosier. "We'll have an open house and barbecue. Hopefully the weather is not too bad."
Posey, a resident of The Dalles, said the company has been working for more than a year to get the store open.
"It was a lot of work, and a lot of extra steps not listed in the 'how-to' guides," he said. "There are changes weekly on new rules."
The Oregon Liquor Control Commission oversees marijuana stores in Oregon, which are allowed to sell only to those who are 21 and older.
Wilson said there were many regulatory hurdles to get through.
"It's a lot to keep up with," he explained. "It worked out.
"We were pushing for a little sooner, but you just have to wait."
Posey said the business is slowly growing as more people find out they have opened.
"It takes time to get the word out," he explained.
Wilson and Posey said they have grown marijuana for medicinal purposes since 1999, after use of medical marijuana was made legal in 1998 following passage of Oregon Ballot Measure 67. The measure legalizing marijuana for medical uses and was approved with nearly 55 percent of the vote.
Posey pointed out that one of the objectives with the new business is to help support area organic farmers.
"I grew up in Parkdale, and want to support local businesses," Posey said. "All our marijuana is locally grown from organic farmers. We want to bring local farmers to market."
The business is working with several organic farmers in the area, including Frontier Farms in Hood River, Otis Gardens in Odell, and Groen Farms in Dufur.
"Our product is the top shelf of the Gorge," Posey said. "If you want the best, you want to come here."
Wilson pointed out that Three Kings currently sells six strains of marijuana, with prices ranging from $10 to $20 per gram. The store also hopes to begin selling edible marijuana products within a month or so.
The shop sells products other than marijuana as well.
"We have glass pipes and some clothing, and random accessories associated with the market," Posey said.
According to Wilson, the business will be offering a service that no one else in The Dalles is providing.
"We've signed up to do deliveries," Wilson explained.
"We'll offer same-day delivery. Seniors from out of town might not want to drive in, so this might help out. Nobody else is doing delivery."
Wilson explained that individual customers would need to come in so the business can get a copy of his or her identification, verifying their age and address, and be entered into their system.
After that, for an extra $5 or so, they will be able to call for home delivery in The Dalles and as far away as Biggs, Mosier, and Dufur.
"It'll be just like for pizza, cash on delivery," Wilson joked.
Three Kings Organics is open from 10 a.m. to 8 p.m. Monday through Saturday, and from 11 a.m. to 7 p.m. on Sunday. They can be reached at 541-370-2246.
More like this story
Latest stories
Latest video:
Mosier oil train fire
Clips from oil train fire in Mosier, Friday, June 3, 2016. by Mark B. Gibson/The Dalles Chronicle. Enlarge