Saturday, February 18, 2017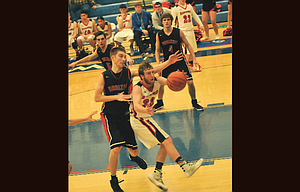 The two-man wrecking crew of Connor Uhalde and Bailey Keever combined for 51 points on 16 of 33 shooting to lead the Dufur Rangers to a 57-38 win over Horizon Christian Friday in a Big Sky Conference district playoff game played at the Buffalo Dome Friday in Madras.
"(Connor) Uhalde had 29 points and I would say all of them were layups except for two free throws and maybe one shot from the outside," said Horizon coach Darrin Lingel. "Bailey Keever had one shot from the outside and everything else was inside, so it was basically a layup drill. When you allow a team to get layups on you, you're not going to win those games. I don't care who you are playing against."
Dufur took a 13-7 lead into the second quarter, and with the score 23-17, with less than two minutes left in the half, Keever hit two free throws, Uhalde added a layup and Keever followed with a steal and a layup to increase the Ranger lead to 29-18 at halftime.
The Dufur lead swelled to 38-23 with 3:39 remaining in the third quarter, when Uhalde scored a basket, Keever hit a free throw, and Uhalde had a rebound and putback, increasing the lead to 45-27 through three quarters.
As a team, the Rangers connected on 19 of 55 from the field, 0 for 10 from 3-point territory, and made good on 19 of 25 free throw attempts.
Only Travis Lucas, Curtis Crawford and Kolbe Bales dropped field goals in the game for Dufur on 3 for 19 shooting.
Bales pulled down a game-high 14 rebounds and added two steals and two blocks, Uhalde had a double-double with 10 boards, seven steals and three assists to go with his 29 points, and Keever tallied five steals, three assists and five rebounds along with his 22 points in 31 minutes of play.
Townsend is still fine-tuning the offensive scheme, so halfcourt execution is going to be a pivotal aspect as state approaches.
It is a matter of getting more practices in.
"We struggled a little bit offensively, but they are a good defensive team. They presented some problems and they hit the boards hard," Townsend said. "I thought we did a lot of good things though. Sure, there are a few things I would like for us to do better, but you can't complain."
Derek Johnston led Horizon with eight points and 11 rebounds, Luke Holste and Ian Walker each went off for seven, and William Decker notched six points.
The Hawks shot 13 of 45 from the floor, 2 for 10 from long distance, and made 10 of 20 free throws.
Horizon committed 27 turnovers, Dufur posted 21 steals, and the Rangers held a 41-37 rebounding edge.
Dufur played Sherman in the championship game Saturday.
More like this story
Latest stories
Latest video:
Mosier oil train fire
Clips from oil train fire in Mosier, Friday, June 3, 2016. by Mark B. Gibson/The Dalles Chronicle. Enlarge