Wednesday, February 15, 2017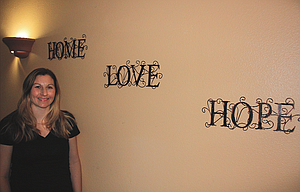 The Dalles has a relatively large senior population. And as the number of senior citizens in The Dalles who need care increases, a new business has stepped up to help meet the need.
Nightingale Care Homes, an adult foster home licensed to care for up to five residents, opened Dec. 1 and is already at capacity.
"Our residents are elderly adults and adults with disabilities," said Nightingale Care Homes owner/operator Carlie Withrow. "We provide private rooms, home-cooked meals, laundry services, housekeeping, medication management, and 24-hour staff."
Withrow said her business, located at 2500 W. 10th St. in The Dalles, provides care in a home-like environment. That factor is central to Withrow's business philosophy: "Taking care of your family like our family."
"Since we only have five residents at a time, we are really able to provide personalized services and really get to know each resident and their family," Withrow explained. "Residents feel more at home instead of feeling like they live in an institution."
With the need to provide care for seniors in the community still growing, Withrow said her business plans to open another care facility soon.
"We are opening a second home on June 1," Withrow said.
The new foster care home will be located at 921 Chenowith Loop, and also will be able to accommodate five residents.
According to data from the U.S. Census Bureau, approximately 19.5 percent of residents of The Dalles are 65 or older, compared to roughly 15.4 percent for the state of Oregon as a whole.
Withrow has a solid background in her field. She has worked as a caregiver in private residences and at assisted living facilities in Portland and Vancouver.
"I am a registered nurse with experience working in long-term care, home health, and in the emergency department," she explained.

According to Withrow, there are several advantages for those living at Nightingale. First is the quality care and personalized service residents receive.
"You will have the same familiar faces assisting with your care," Withrow said. "Our caregivers will take the time to get to know your likes and dislikes," adding that Nightingale's doors are always open for family and friends of residents to visit.
Withrow pointed out that Nightingale's residents have access to a registered nurse on a 24/7 basis, a service that is not often available in small care facilities. Nightingale currently has two full-time employees and another worker on-call.
"Our goal at Nightingale Care Homes is to provide quality care while helping residents maintain independence and dignity," she said, adding that there are a variety of reasons why patients may seek help.
"Some people stay the rest of their lives," Withrow said.
"Others may have had an incident happen and come in for a couple months of care and then go. It just depends."
Withrow pointed out that anyone considering an adult foster home to care for a loved one should remember how the patient's needs can change with time.
"Something to consider when looking at care options is if the facility is able to accommodate changing care needs," she explained. "Some facilities may not be able to continue to provide care as the resident's needs increase, which could result in another move in the future."
Withrow said she has been gratified by the response for Nightingale from around the community.
"We are excited to be a part of The Dalles community and are looking forward to many years of providing quality and personalized care," she said.
Nightingale Care Homes can be reached at 503-956-2443.
More like this story
Latest stories
Latest video:
Mosier oil train fire
Clips from oil train fire in Mosier, Friday, June 3, 2016. by Mark B. Gibson/The Dalles Chronicle. Enlarge