Wednesday, February 15, 2017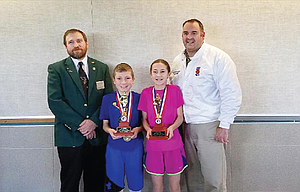 The South Wasco County brother and sister tandem of Julie and Jason Hull each moved on to the Northwest Regional finals after impressive free throw shooting displays at the Elk's State Championship Hoop Shoot held last Saturday at Alder Creek Middle School in Milwaukie.
In her 10-11-year old classification, Julie Hull won her contest in dramatic fashion, as she squared off with Brooke Anderson in a tiebreaker shoot-off.
Hull and Anderson each made 13 of 25 shots from 15-feet away to end up even.
In the shoot-off, both contestants were given five attempts, with the winner hitting the most.
With the tensions mounting, both shooters had to get their wits about them in order to decide this impressive showdown.
Anderson sank 2 of her 5 shots, so all Hull had to do was calm her nerves, find her rhythm and let it flow.
Anderson never stood a chance.
Julie Hull canned 4 of her 5 tries to come away with the victory.
Jason Hull competed in the 8-9-year old boys' division and he hit 23 of 25 free throws from 12-feet away to defeat Noah Williams.
Williams shot first and made 21 of 25, before Jason Hull finished the deal with only two misses.
Jason Hull also wound up tied for the most free throws converted during the competition.
Nick Bettencourt, the Northeast District Vice President, from Condon, and Corey Sweeney, the Northeast District Chairman, out of Heppner, presented the Hulls with their medals and trophies.
They duo heads out to Clark College in Vancouver, Wash. for the Northwest Regionals, slated for Saturday, March 11, where they compete against the top shooters from Washington, Oregon, Idaho and Alaska.
If either one of them gets a winning performance, they earn a chance to go to the National Finals on April 22 in Chicago, Ill.
More like this story
Latest stories
Latest video:
Mosier oil train fire
Clips from oil train fire in Mosier, Friday, June 3, 2016. by Mark B. Gibson/The Dalles Chronicle. Enlarge