Thursday, February 9, 2017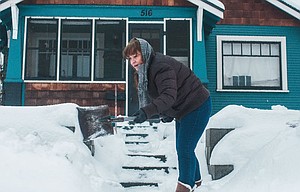 The long, grueling winter has meant a sharp uptick in work for certain local businesses.
Insurance agents, auto body shops and heating companies are among the businesses slammed as the gorge endures a relentlessly cold, snowy winter.
Dean Dollarhide, a State Farm insurance agent, said he's seen as many homeowner claims in the last two months as he's had in the last six years.
They've predominantly been water damage from frozen pipes and the ice dams that form on roof gutters, and claims on collapsed buildings, he said.
The best way to avoid ice dams is removing as much snow from the roof as possible. An effective way to break up a dam is to fill a nylon stocking with de-icer and place it on the dam. "I've had several clients do that and it worked exceptionally well," he said.
"And we're getting more and more, as things are starting to thaw, more are coming in. And car claims, we're having tons of those as well," Dollarhide said. "In fact, next to the high school, I had one client slide down, hit another car, which also happened to be my client."
Two days later, in the same spot, another of his clients slid into yet another of his clients. "Two accidents, four clients," he said. He estimates auto claims are double normal levels.
Oregon is having so many claims that adjustors are coming in from State Farm headquarters to help. They use specialized vans that double as mobile offices. "They're designed to go to catastrophes, but Oregon has gotten to that point," he said. "There's been so many claims in Oregon that they've had to send people in from all over the U.S. to help. And of course, they're trying to get everyone taken care of as fast as they can, it's just really hard with our geography in Oregon."
He's had a lot of clients report hearing water dripping in their home. "If you hear any kind of water or dripping, if you see any discoloration on the ceiling or the walls," those are signs of damage, he said.
One client had such a water-damaged ceiling that Dollarhide reached up and was able to poke his finger right through it. In other cases, bubbled paint is a sign of water damage.
People are having water run down the inside walls and puddle on the floor or carpeting.
Wednesday, a shop collapsed on three vehicles, providing both a homeowner claim and a vehicle claim.
"We've had swimming pool covers damaged; hot tub damage from freezing; barns collapsing," Dollarhide said.
Snowbirds who have left for sunnier climates over the winter will also be coming home in spring to discover damage. "We're waiting for a wave of that as well," he said.
At Jack's Body Shop, owner Vince Vann said they've been busy as well. He's even had repeat business from some especially unfortunate customers. "I've had two or three customers that have been hit again," he said.
He's normally booked a month out, but now it's about two or three months. A lot of customers are just waiting for spring to deal with dings and dents.
He's had 10 or 15 totalled cars on his lot alone, and wouldn't be surprised if there were 60 all told in the gorge, which is a high number.
The cars began piling up on his lot, because people couldn't even come in to pick them up. He also has had trouble fixing cars because the parts were delayed, either locally because of the gorge, or even because of bad weather elsewhere in the country.
"It's been a very long, drawn out winter, and even us body people are sick of it, even though it helps our businesses," he said.
Sometimes, he bumps people ahead in line if they have important work. Wednesday, he worked on a mail carrier's car right away. "I know how important her job is to get her back on the road," he said.
He also gets customers who have damaged vehicles because carports have collapsed on them.
A common problem is "people sliding into curbs, which does a lot of suspension damage," he said.
He said his shop is sometimes doing temporary repairs to get people on the road.
"Most of the people who can drive them are gonna wait until spring, and the weather's so bad, they keep cancelling" appointments for repairs.
Jim Carter, manager of Airco, a heating and cooling business, said, "It's probably been our best winter in quite a few years."
February is usually his slowest month, "and it certainly hasn't been slow or even signs of slowing. Like right now it's 4 o'clock and I have three more service calls tonight. It's been busy, busy."
He's seen a lot of damage to heat pumps from snow and ice coming over the gutters. "The gutters are either breaking off and hitting the heat pumps or they're just full so the water is coming off the houses and hitting the heat pumps and freezing them all up."
He encouraged people to clear the area around their heat pump, "because the units have to work really hard when they're packed with snow and ice." He stressed that people need to change their filter. If they have permanent filters that people normally hose off, he suggested vacuuming them off, or cleaning them in the shower.
He said he's getting "a lot of calls from people with super high power bills." The cold weather "makes things work a lot harder."
More like this story
Latest stories
Latest video:
Mosier oil train fire
Clips from oil train fire in Mosier, Friday, June 3, 2016. by Mark B. Gibson/The Dalles Chronicle. Enlarge