Wednesday, February 8, 2017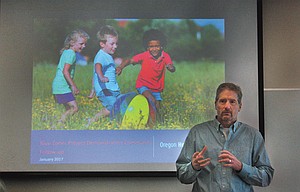 Hopefully by next month The Dalles will learn if it has been accepted as a Blue Zones Project, having raised the needed $200,000 first-year local contribution to qualify for the three-year health and well-being initiative.
The Jan. 31 deadline to raise the funds was extended by one day, during which last-minute contributions brought the community to the financial goal.
The Dalles is one of three finalists in Oregon for the designation as a Blue Zone Project "demonstration community."
The final applicants were all so strong "that it inspired us to work with our partners to try and expand the program," said Sarah Foster, program manager for Oregon Healthiest State, the entity partnering with Blue Zones in Oregon.
"Our hope is to be able to select multiple communities," she said. "That potential change is really exciting, but also has required a lot of administrative and funding adjustments that are still in process."
She said she could not comment on who the other two finalists were or whether they had raised the needed $200,000 initial local contribution.
The Oregon Healthiest State project was launched in 2013 by Cambia Health Solutions, Oregon Health & Sciences University, Nike Inc. and the Oregon Business Council, according to the Portland Business Journal.
"The Blue Zones Project is a community health and well-being initiative built upon longevity lessons learned from where people live the longest, happiest, healthiest lives," said Aaron Patnode, executive director of the Blue Zones Project in Oregon, in an email.
"We work with communities to make permanent and semi-permanent changes to the places/areas where people live, work, learn and play," Patnode said.
"This is done by focusing efforts not just on the health and well-being of individuals, but also the places where they interact; worksites, schools, restaurants, grocery stores, faith based organizations and civic organizations all play a role," he said. "We also focus on making policy changes related to tobacco policy, food policy and the built environment (infrastructure)."
The Blue Zones Project is based on the work of a man who studied the longest-living communities in the world, and found certain commonalities in all of them.
They included eating right, exercising, attending church, finding meaning in life, staying connected with family and friends, taking steps to reduce stress, and even drinking wine daily.
Oregon's first Blue Zones Project is already underway, in Klamath Falls.
The Blue Zones program costs $833,000 a year for three years.
"We are asking the local communities to come up with $200,000 for the first year, $300,000 for the second year and $300,000 for the third year to contribute to these programmatic costs," Foster said.
Over the three years, the local community contributes $800,000 while Cambia Health Solutions contributes $1,699,000. The total three-year project cost is $2.5 million.
The initiative aims to help make healthy choices easier. In the "demonstration communities" selected to be a Blue Zones Project, five full-time locally hired employees implement Blue Zone initiatives that are tailored to the community, Patnode wrote in an email.
As for the local contribution, $100,000 has come from Mid-Columbia Medical Center; $50,000 from Columbia Gorge Health Council; $12,000 from Columbia Gorge Community College, $10,000 from Oregon State University Extension Office; $10,000 from Providence Hood River Memorial Hospital; $8,600 from Wasco County; $5,000 from OneCommunity Health; $2,300 from a gofundme campaign; $2,000 from Waste Connections and $100 from Darcy Long-Curtiss.
Foster stressed Blue Zones is not a grant program, and the community will not be receiving the funds.
"What they will receive is a comprehensive program that creates the environment for lasting well being for individuals, organizations and the community."
It includes funding for five full-time employees and office space. "It really has a large PR and marketing budget for the activities of the project," she said.
Foster said "a big chunk" of the cost of the program is community outreach. "It's an engagement program."
It also includes national consultants who come help the community think through their health and well being programs and policies and implementation of them.
More like this story
Latest stories
Latest video:
Mosier oil train fire
Clips from oil train fire in Mosier, Friday, June 3, 2016. by Mark B. Gibson/The Dalles Chronicle. Enlarge