Saturday, February 4, 2017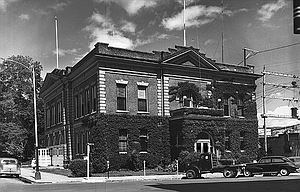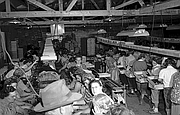 20 years ago – 1997
If you want to be strict in your observance of traffic laws, don't honk if you love Jesus. You could be cited. Using a vehicle horn for anything but warnings or emergencies is considered a traffic infraction – unreasonable noise with a motor vehicle. The traffic law books are filled with examples of laws that we all break every day, not through a need for rebellion, but through ignorance, laziness or indifference.
A final decision is expected by April 1 on a permit system for the Deschutes River. The system would not be implemented until at least 1998.
Since its start 40 years ago as a gift cart in The Dalles General Hospital, the Auxiliary Gift Shop has used its earnings to buy items that help comfort and heal patients. Those items range from the latest Bi-PAP ventilator, which makes machine-assisted breathing less invasive, to a baby grand piano to cheer patients' spirits.
Four recruit officers were hired for assignment to The Dalles Patrol Office of the Oregon State Police as of January 1.
40 years ago – 1977
MORO—The wreckage of a twin-engine courier plane was found on Gordon Ridge Friday afternoon about 4 p.m. with its pilot's body inside. Sheriff Gerald Lohrey said that pilot Dean Glunz, Oregon City, apparently died instantly in the crash which was believed to have occurred Wednesday night soon after he left Pendleton en route to The Dalles, a 35 minute flight. Lohrey sealed off the area for the night and the FAA investigation team was due on the scene at 10 a.m. today. Gordon Ridge is 2,040 feet high, the highest point in Sherman County.
Mrs. Walter (Ethel B.) Klindt, 93, a resident of The Dalles since 1906, died at a local nursing home on Friday. Mrs. Klindt was born July 15, 1883 in Kansas. She was a member of the First Congregational Church, was a charter member of the BB club, and belonged to the Old Wasco County Pioneer Association.
WASHINGTON (UPI) – Scientists will converge on Washington Monday for an emergency meeting with HEW Secretary Joseph Califano to confront an outbreak of A-Victoria influenza – a flu strain which claimed 11,000 lives in this country last year. All flu shots have been suspended since the swine flu immunization program ran into trouble, and Califano says he needs to know if inoculations to combat the A-Victoria strain can resume.
60 years ago – 1957
Some of the interviews necessary for completion of the local occupational survey begun a month ago are being made by telephone, Tenison Haley, Dalles junior high school teacher who is making the study, said today. Haley, who has been referred to as the "man with the shoe box" (he keeps his card file in one) and sometimes has been mistaken for a salesman, has now made more than 200 contacts with local businesses and others. Before the survey is finished he intends to add 500 more to the list.
Power to all Pacific Power and Light Co. customers in The Dalles area was out for approximately 53 minutes this morning when an insulator failure caused the top of a pole to burn off in the Chenowith-Brickyard road area.
A proposed county ordinance to cover creation of future subdivisions was examined word by word at the meeting of the Wasco County Planning Commission last night. Portland consultant J. Hazlett Bell was on hand to explain the purpose and various provisions of the ordinance, which would fit in with recently approved county building and zoning ordinances.
80 years ago – 1937
"I've heard radio crooner's singing about 'Pennies from Heaven' but I've just seen something that goes that one better. I've seen silver foxes from heaven – or some place." The speaker was A. B. Shelley, who went on to explain that while motoring to The Dalles from Hood River yesterday afternoon he saw a highway crew remove a live silver fox from the heart of a snowbank near Mosier. The little animal was too cold to move freely or nip at its rescuers, but was still far from dead, Shelley said. The only explanation possible, in Shelley's opinion, is that the animal escaped from one of the silver fox farms near Hood River, possibly months ago.
Word was received here today of the death yesterday of Alfred Hoering at the Northwest Christian home at Walla Walla. The body will be sent here for burial, funeral arrangements to be announced later. Hoering was a former resident of The Dalles.
Plans for a proposed thoroughfare connecting Dry Hollow Road with the top of the Brewery grade will occupy city councilmen when they hold their monthly meeting tonight. Property holders from whom right-of-way for the proposed thoroughfare must be obtained and members of the Wasco county court and road department will be present.
100 years ago – 1917
As soon as plans can be completed, which will probably be within the next 30 days, work will be commenced on the construction of a large and modern factory building by the Wittenberg-King company on the block just east of the present plant. The local evaporating company's business during 1917 will be more than doubled as compared with 1916 and the present factory is inadequate for handling the great volume of business which has already been contracted. The new structure will be a modern daylight factory building, with four times the floor space of the present large building. It will contain a large preparatory room, jelly factory, modern offices and large storage space for green products.
WASHINGTON, Feb. 5. – Austria has sent the United States a note practically identical with the German declaration of unrestricted sea warfare, but despite this the administration is making every effort to get a change and avoid a break similar to the German rupture. These negotiations have proceeded for the past two days, and the state department has refused all comment.
More like this story
Latest stories
Latest video:
Mosier oil train fire
Clips from oil train fire in Mosier, Friday, June 3, 2016. by Mark B. Gibson/The Dalles Chronicle. Enlarge