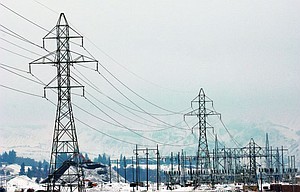 In the midst of this extended cold snap, some PUD customers have gotten hot under the collar after opening their power bills.
A few have taken to Facebook to vent, and the Northern Wasco County PUD also got on Facebook to explain what's behind the spike in price.
It's pretty straightforward, according to Cyndi Gentry, corporate services director for the PUD.
December 2016 was colder than December 2015, by about six degrees. The average highs were 43 in 2015 and 34 in 2016. The average lows were 37 in 2015 and a chilly 26 in 2016.
"So when people say, 'I keep my thermostat the same as it was last year,' what I think they tend to forget is that if it's six or seven degrees colder your heater has to work longer, harder to maintain that 68 degrees or 70 degrees inside," Gentry said.
The PUD is also doing an ongoing project to replace old meters. The newer ones produce more accurate readings than the old ones, which gradually slow down and record less usage over time.
However, Gentry said the new meters "might be a bit more accurate, but they are not why the power bills are so high."
Also, with the snowy conditions and bad roads, meter readers weren't always even able to get to a house to read it, so they used an estimate based on the previous year's usage. In other cases, they might have gotten to a house, but it took a few extra days, which added more days to the billing cycle.
Estimating bills is done every winter, but that's happened more often this winter, she said.
Local power customers are not alone in this sticker shock, either. The price shock is being felt across the region, Gentry said, noting articles in papers from the Willamette Valley and in Washington discussing the same issue.
The higher bills for the winter have not only come across in December bills, but will also come in January bills, and for some, even in February.
Ironically, December's power usage for residential customers was slightly lower in December 2016 than it was the year before. The PUD received just over $1 million in revenue in 2015, but earned $937,688 in 2016. That is because December bills reflect November usage, and November 2015 was actually colder than November 2016.
"When most of us look at our power bill, we think 'This is twice as high as last month,'" Gentry said. "That is normal, particularly since November 2016 was a relatively warm November. We rarely think about how the winter season this year compares overall to the winter season last year."
Customers took to Facebook to write of power bills that were $300 or over for the month, in some cases double their previous bill.
One way to take the monthly ups and downs of power bills out of the equation is to use the PUD's budget payment plan. The PUD has 662 residential customers on the budget plan.
The budget plan spreads the cost of electric service evenly throughout the year, so the bill is the same amount each month.
The program runs May to April, and April is "catch-up month" where customers have to pay any balances owed in full. Then the new monthly budget amount is calculated for the customer and that amount is then billed each month for the next 11 months.
As far as the cold weather pushing the power usage up, how much it will do that depends on the efficiency of the heat source and the weatherization of the house, Gentry said.
She said the PUD is not getting numerous cranky calls.
"Not too bad, and we've had some pretty positive responses to our Facebook posts," she said.
"We've actually got a note with a payment from a customer, handwritten," she said. "It stated, This bill is more than normal — ouch! — but when we think of the people who lost power during our current storm it takes the pain away. Keep up the good work. Thanks."
That gentleman happened to have a $300 bill, and Gentry notified weatherization staff, in the hopes that they could possibly help him take steps to cut down power usage.
The PUD offers free weatherization audits to help pinpoint heat loss sources – typically in insulation and windows -- and lists steps to remedy them. The PUD has grants for weatherization work, but the audit is required in order to qualify for the grant. For more information, visit www.nwasco.
com/energy-audits.cfm.
She said the PUD is considering reaching out to customers with a power bill over a certain dollar amount to inform them of weatherization options.
The PUD has had a number of requests for weatherization audits so far this winter, she said.
Simple steps to cut power costs include taping clear plastic film to the inside of windows, ensuring the fireplace damper is closed unless a fire is burning, and opening curtains on south-facing windows during the day to allow sunlight to naturally heat the home. Close them at night to reduce heat loss.
Install a programmable thermostat to control the temperature, and find and seal air leaks, such as around utility cut-throughs for pipes, gaps around chimneys and recessed lights in insulated ceilings and unfinished spaces behind cupboards and closets.
Add caulk or weather stripping to seal air leaks around leaky doors and windows.
Keep your heating system serviced, and replace furnace filters once a month or as needed. Clean the flue vent on wood or pellet-burning stove regularly and clean the inside of the appliance with a wire brush periodically.
More like this story
Latest stories
Latest video:
Mosier oil train fire
Clips from oil train fire in Mosier, Friday, June 3, 2016. by Mark B. Gibson/The Dalles Chronicle. Enlarge