Thursday, February 2, 2017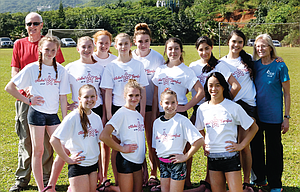 Snorkeling? Check.
Global competition? Check.
Relaxing with family and teammates on white beaches carved by turquois water? Check.
Medals? Check, check and double check.
Riverside Gymnastics team recently returned from a 5,200-mile, round-trip to the Aloha Gymfest on the Island of Oahu, Hawaii, where it captured 7 first-place medals.
The meet presented some challenges.
Riverside was competing in events with girls who only spoke with a smile since they did not know English.
"A girl from Guam gave us pins," said Celia Peterson, 16.
"She was so nice," added Poppy Miller.
Athletes came from around the globe to attend. Teams from Hawaii, Australia, California, Canada, Japan, Washington, Arkansas, England, Guam and Arizona participated.
"We always compete against the same teams, so this was really cool," said Alexa Baldy, 14.
Riversides' Krissy Carter, Jacy Johnston, Zoe Dunn, Nina Sanchez-Macias and Baldy all took home first-place awards within their levels and age groups.
"The meet was the focus of a couple of months," said Carter. "The pressure was on, so we all worked out harder."
At Level 8, Carter ended up with first places on floor and beam with a 9.475 and a 9.1 respectively. That pushed her to a second all-around with a 35.65 total.
At Level 7, Baldy took first on floor with a 9.575.
At Level 6, Nina Sanchez-Macias provided a well-balanced attack with two, second-place finishes on her way to a 36.1 all-around score that put her at the top of the podium. Jacy Johnston captured a first on beam and vault, 9.65 and 9.1, putting her at a third-place all around finish. Zoe Dunn's Beam at 9.4 also netted her gold on her way to a third-place all around score.
And that was just the start. Audrey Hinatsu, Level 10, Ellie Cardosi, Level 9, Emma Smith, Level 8, and Halle Haskins, Level 6, also knocked out big scores at the meet held in Kailua, just 30 minutes from Waikiki.
All told, Riverside netted 18 medals in a variety of gold silver and bronze.
Hawaii was a major milemarker for the 12 athletes from the mid-Columbia and their families who have put in years of training or support. Athletes competing at Level 6 and above are typically practicing some 15 hours per week or more.
"It was quite an experience for our kids to get to compete against athletes from other countries," said Coach Mike Smith. "This was a team-building experience. We like to give the kids something out of the ordinary. Something that is a good memory maker."
Smith made a few himself while rotating with coaches that did not speak English. "It was fun to try to communicate on bar settings. It made it a lot of fun."
Sanchez-Macias, 13, said she was proud to tip in two personal best records at the meet.
"We all went to the beach after practice," she added. "It was really fun hanging out together."
More like this story
Latest stories
Latest video:
Mosier oil train fire
Clips from oil train fire in Mosier, Friday, June 3, 2016. by Mark B. Gibson/The Dalles Chronicle. Enlarge