Thursday, December 7, 2017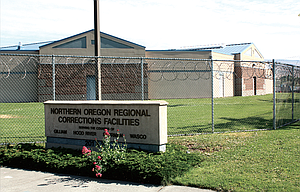 County responds to report
The Wasco County Commission has demanded an independent investigation of the juvenile detention facility to address findings in a report that claimed youth there were subjected to punitive treatment.
In a letter to the Northern Oregon Regional Corrections Facility board, the county said it would "immediately redirect" any youth in the regional jail's custody to a different facility pending resolution of the findings and recommendations in the report.
The commission cited "serious concerns relating to the findings contained" in the Disability Rights Oregon report (see related story).
The county commission also said it would "immediately transfer the operational control and administration of the NORCOR Juvenile Detention Facility to the Juvenile Directors Oversight Committee" pursuant to state law.
It also urged the NORCOR board to immediately convene an emergency meeting to discuss the report.
"It is our hope that the findings contained in the DRO report can be immediately addressed and resolved," the letter stated. "As a partner agency in NORCOR we will do everything in our purview to help ensure the success of this facility."
The commission said it hoped its actions will "serve as the catalyst to start a meaningful discussion concerning NORCOR" and said the county remains ready to assist in resolving the issues.
A sharply critical report on the juvenile detention facility at the regional jail claimed youth weren't allowed to "look around" or ask what time it was, and they spent hours a day isolated in their cells.
The report by Disability Rights Oregon (DRO) cited "harsh and purposeless rules" and harmful, outdated and counterproductive practices, including solitary confinement.
Jail officials say the report contains a number of "over-exaggerations and inaccuracies," but also allow that a number of changes have been made as a result of the report, including installing clocks and eliminating the rule that youth could not "look around."
Jeff Justesen, juvenile detention manager at the Northern Oregon Regional Corrections Facility (NORCOR), feels the key allegations in the report have been addressed in one way or another. "We still dispute the level of isolation and room lock that they claim that we've imposed, but we're looking at that and looking at how we can better document the times the kids are in their rooms so there's actual accounting for it instead of a kid's word vs. our word."
The report said state law requires such documentation.
The report cited several lengthy stints in solitary confinement by juveniles. Justesen said only two youth in at least the last two years have had what the facility terms discipline status imposed for more than one week. One was five weeks, the other, 10 weeks.
The report, released Tuesday, cited "inhumane conditions" including prolonged, frequent and undocumented isolation.
"We saw kids as young as 12 who were locked in their cells for hours at a time and weren't allowed to read, write or draw," the report stated. It stated conditions were punitive and deprived youth of the human contact and tools needed for healthy human development.
At DRO's request, the facility has since allowed journals and pens in rooms, which kids report has made "a significant difference," according to the report.
Justesen said that, before DRO's investigation, the facility did allow youths access to journals when requested by the youth or a mental health worker.
Justesen said six changes have been made since the series of three DRO visits and its follow-up report.
In addition to allowing journals and pens, several rules were eliminated, including: "do not look around;" "do not look out of any windows;" and "do not ask the time."
Now, books are only removed from rooms if a youth has damaged them multiple times. Visits and calls are no longer suspended during disciplinary status (isolation) and posters/art were added to the walls of secure areas.
Also eliminated was a written test, which kids had to pass before being allowed to attend class.
Planned changes include increased socialization, increasing property limits, creating incentive-based systems and providing more contact visits, rather than visits through glass.
Justesen said he was open to criticism and willing to make changes when warranted. He lauded the staff as being hard working and dedicated to the safety of the youth in its care.
Facility rules banned looking out windows, required keeping hands at sides and silence during line movements, and forbade looking into other rooms.
The report includes several recommendations, including requiring licensing and regulation of juvenile facilities. Now, adult facilities are inspected for rule compliance, but juvenile detention facilities are not. It also recommends a statewide plan to reduce youth incarceration, saying Oregon incarcerates kids at a rate "grossly disproportionate to almost any other state."
It also recommends improved data gathering on youth incarceration, and guaranteed appropriate education in detention.
It also recommends statewide implementation of effective treatment that takes into account childhood trauma. For NORCOR, the report said, that would mean a program "designed to teach and heal, rather than punish"; expanded behavioral healthcare and an end to solitary confinement.
The juvenile facility has averaged 15 to 19 youth in recent years, and currently has seven.
The report quoted Dr. Ajit Jetmalani, director of child and adolescent psychiatry at Oregon Health and Science University, who said the vast majority of incarcerated youth have mental illness and significant histories of trauma, including neglect, abuse, and food and housing insecurity.
The key to recovery for these kids is not in strictly enforcing rules, which actually discourages prosocial behavior, but rather in forming healthy relationships, which help to foster an intrinsic desire to engage positively with the world.
Jetmalani said kids with traumatic backgrounds can react unpredictably to perceived threats, and that can be misunderstood as noncompliance, which leads to discipline, which triggers more noncompliance.
The report said solitary confinement is widely recognized as psychologically and physically detrimental for youth. One United Nations report found it constituted torture when applied to juveniles.
In 2016, it was banned for juveniles in federal prison.
One girl who'd made a serious suicide attempt reported being punished for things including leaving an orange seed on the floor, falling asleep, being flirty, and not saying "excuse me." The girl had been in detention for five months, and was only there because she was awaiting a bed in a treatment facility.
Another youth reported using drugs, starting at age 8 or 9, and being abused. He said kids need to talk to other kids, and don't trust adults because of their abuse. The youth was often in trouble for talking.
He said if you told staff you were suicidal, they wouldn't "talk you down," they'd just put you in an observation cell, alone.
Justesen said in a Nov. 27 response to the report that video randomly selected from three days showed most youth were in their rooms for no more than three hours during waking times.
He said the report's contention that a day could consist of almost around the clock lockdown is not accurate.
The facility provides classroom education, exercise, yoga, classes on coping with stress, drug and alcohol education, and access to volunteer groups like AA, church and Master Gardener programs, he said. Youth frequently have the opportunity to play basketball and cards during social time with other youth, which is typically about an hour a day, he said. The report said youth described widely varying amounts of time spent outside their rooms, depending on staffing levels and who was on duty. They estimated spending three to six hours a day in their cells, but noted it was difficult to say because they didn't have clocks and couldn't ask the time.
The report said youth were only allowed one book and a Bible, and couldn't have drawings, but in response to DRO's request, the facility has added art to the walls.
Youth placed in disciplinary status were denied visitation, phone calls, books (except a Bible) and the ability to go to class, exercise and eat with their peers, the report stated.
Justesen said the facility has ended the practice of denying books to those in discipline status and prohibiting visits and phone calls.
The report also stated kids are only allowed two 15-minute phone calls per week and one 15-minute in-person visit, behind glass.
Justesen disputed that, saying, there are four visitation days a week and a kid can have a visitor each of those days. Visits are limited to 15 minutes only if there are other people waiting to visit. People travelling from a long distance who cannot visit very often are allowed longer visits, generally up to an hour, he said.
The report said juvenile conditions "are much more severe than what adults experience in jail." Adults at NORCOR have access to TVs, commissary, almost unlimited (out of cell time), daily video visitation, phone calls six days a week and unrestricted social contact with other adults in custody.
The report also stated newly arrived youth were in lockdown without access to phone calls, visits, books or classroom education until they pass a 52-question written test regarding 62 rules. During that time, their only access is to the Bible.
One staffer said kids with learning disabilities or anxiety couldn't complete the test. DRO said NORCOR did not have records of how many youth couldn't access the classroom because of the rule that they must pass the test first.
Justesen said that written test – which was open-book, and the answers to the questions were listed word for word in the book — has been done away with and plans are to have kids watch an introductory video or get a staff presentation.
DRO visited three times over four months and interviewed about 23 youth. They interviewed staff and asked them to provide input.
DRO is the federally designated protection and advocacy system for Oregonians with disabilities, which gives it the ability to access facilities to monitor conditions and investigate concerns of abuse or neglect, the report stated.
It was monitoring jails around the state and decided last spring to do a report on NORCOR.
They found that a third to a half of kids in juvenile detention were there for probation violations, which are often technical violations, an example of which would be missing an appointment with a counselor. Three youth were in NORCOR in 2017 on serious offenses, the report stated. Most youth are 14-17, with the youngest being 11.
Four were in Immigration and Customs Enforcement custody, hailing from as far away as Massachusetts and South Carolina.
NORCOR houses juveniles from the four member counties, and also from other counties that contract with the jail for bed space.
More like this story
Latest stories
Latest video:
Mosier oil train fire
Clips from oil train fire in Mosier, Friday, June 3, 2016. by Mark B. Gibson/The Dalles Chronicle. Enlarge