Thursday, December 7, 2017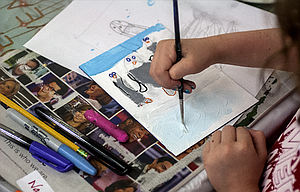 The Dalles Art Center is offering five classes during "2017 Winter Break Art Camp" Dec. 20-23. Classes are for ages 6 to 14.
Signups are at The Dalles Art Center, 220 E. 4th Street, The Dalles.
Registration is open now, stop by TDAC to pick up a registration sheet. Scholarships available.
Morning classes are 10:30 a.m. to noon, ages 6 to 8, and afternoon classes are 1 to 3 p.m., ages 9 to 14.
• Fused Glass Ornaments, Dec. 20, with Stephanie Johnston & Charlene Fort
The glass in this class is an excellent medium for ornaments that will become fast family favorites on your holiday tree.
In this class, children will learn some basic kiln-formed glass skills including how to prepare molds with tools using safe techniques.
Young artists will use sheet glass and frit to make elegant, hanging ornaments.
All projects will be fired overnight and ready to pick up the following morning at The Dalles Art Center. All Ages (6 - 14).
• Pottery Painting Plates Dec. 21, with Yvonne Pepin-Wakefield
This class introduces young artists to the use of color and design interpreted on functional ceramic pottery. Children will have a wide variety of glazes to choose from that are dishwasher and food safe.
All projects will be fired in our kiln overnight and ready to pick up the following morning at The Dalles Art Center. All Ages (6 - 14).
• Winter/Holiday Acrylic Painting Dec. 22, with Sarah Starr
Young Artists will be offered a wide selection of winter landscapes images for inspiration in this studio style class.
They will explore a winter palette, composition, value and perspective in the creation of a completed acrylic painting on canvas board. Their final product will make a lovely holiday gift.
In addition, each student gets to take home a set of acrylic paints and brushes to practice at home. Ages (6 - 14).
• Hand Painted Gifts Dec. 23, with Sarah Starr
Young artists will be given a wide assortment of objects to paint on including (but not limited to) pieces of wood, rock, and 3-D shapes.
A variety of painting techniques and an assortment of materials will be utilized in the creation of hand-painted signs, rocks, and ornaments that will be perfect for the holiday season.
Feel free to bring an inspirational message or word to class, but not required as we will build a list together. Ages (6-14).
More like this story
Latest stories
Latest video:
Mosier oil train fire
Clips from oil train fire in Mosier, Friday, June 3, 2016. by Mark B. Gibson/The Dalles Chronicle. Enlarge