Wednesday, December 6, 2017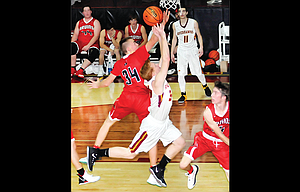 Getting off to a hot start is great, but The Dalles head coach Nathan Morris is still hoping his team can fine tune a few aspects of the game to get to an elite level.
Dakota Murr racked up 17 points and pulled down 12 rebounds, Jacob Hernandez went off for 13 and the undefeated Riverhawks broke open a 28-20 halftime lead with a 35-27 run in the second half in a 63-47 triumph over Columbia, out of White Salmon, Wash. Tuesday in The Dalles.
"It is nice to be off to a 2-0 start, especially considering we really have not played well in either of those two games," Morris said. "Our best games are definitely ahead of us. We know that we are capable of playing much better than we have in these first two games and the kids know it."
TD went on a 15-9 third-quarter run for a 43-29 lead, and put on the finishing touches with a 20-18 outburst.
Columbia managed 17 field goals, one 3-pointer, eight of those baskets came in the first half.
William Gross notched 22 points, Jonathan Douthit tacked on 10 and Lewis Rowlen scored eight to lead the Bruins.
"I am really excited about this group," Nisbet said. "I think we are playing really great defense, maybe better than we ever did last year. I think it is going to get better from here. We weren't shooting too well, I think our defense is what won that game."
With this solid beginning, Murr wants to keep stacking wins together, because he feels he is finally on a team that accomplish great things.
"It feels great to be where we are," Murr said. "We have never started off 2-0 since I have been here. We are just going to keep going, and then hopefully beat Sandy to go 3-0 and then beat Sisters to go 4-0. We want to keep it going. We need to keep playing tough defense, boxing out for rebounds and limit the turnovers. That is basically what we got to do to take that next step."
TD (2-0 overall) has a 7 p.m. home contest at 7 p.m. tonight against Sandy.
More like this story
Latest stories
Latest video:
Mosier oil train fire
Clips from oil train fire in Mosier, Friday, June 3, 2016. by Mark B. Gibson/The Dalles Chronicle. Enlarge