Wednesday, December 6, 2017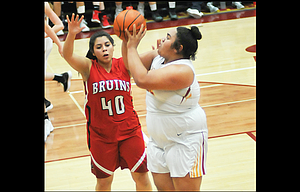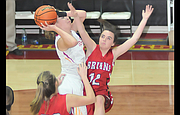 When The Dalles Riverhawks are executing their pressure defense, there is not much opposing teams can do.
No. 12-ranked The Dalles forced 18 turnovers and gave up a season-low three field goals to take hold of a 47-12 win over Columbia, out of White Salmon, Wash. in girls' basketball play Tuesday at Kurtz Gym in The Dalles.
In their first three games, all victories by an 18.6 average, the Riverhawks have surrendered 29 points a clip.
"Being 3-0 shows that our collective unit is buying in to what coach is telling us," said senior point guard Paulina Finn. "This boosts our confidence against easier competition and we know that. We will face harder competition down the road, but this is still a good start. We are enjoying this. We still have to improve on some things, but with these preseason games, we can do that."
Jodi Thomasian rattled off 14 first-half points, and Finn, Marissa Heemsah and Bailey LeBreton chipped in four points.
Mercy I'aulualo and Lauryn Belanger tallied a basket each and Kilee Hoylman sank a free throw to move the Hawks ahead by a 33-3 halftime margin.
Columbia did not score for the first 13 minutes and 12 seconds of action, until a 3-pointer from Kathirin Hylton at the 2:48 mark.
The Dalles finished off on a 14-11 spurt in the second half, with Jenna Miller and Thomasian each hitting a field goal, Abcde Faamausili, Monica DeLeon scoring three points, and Finn dropping four points.
Overall, the Riverhawks made good on 19 field goals, one 3-pointer, and shot 8 of 19 from the line.
Thomasian led all scorers with 16 points, Finn had eight, and Miller, Heemsah and LeBreton checked in with four points apiece.
The Dalles (3-0 overall) hosts 6A Glencoe (0-1) at 7 p.m. on Friday.
Latest stories
Latest video:
Mosier oil train fire
Clips from oil train fire in Mosier, Friday, June 3, 2016. by Mark B. Gibson/The Dalles Chronicle. Enlarge