Tuesday, December 5, 2017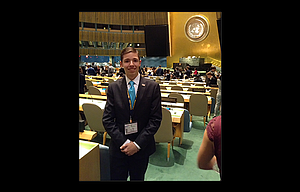 When 15-year-old Isaak Kemp walked into a Sherman County town hall meeting two years ago to ask a question about how tax codes would continue to support the private business sector under a new president, his community was impressed.
Now, they have even more reason to be, as Kemp travelled solo from Wasco to Pittsburgh this past October to attend a training for the Climate Change Reality Leadership Corps, a network of environmental activists that's part of a larger non-profit titled The Climate Reality Project.
"I've always cared about the environment and what we do to the planet," Kemp, 17, said.
"I wanted to go because I understood the science behind [environmental issues.] I saw the damage come out of Hurricane Harvey in Texas where a lot of my family lives and I saw the damage caused by Hurricane Irma in Florida. That truly stunned me, that we've had two major hurricanes that caused so much damage and so much pain to people in those communities," Kemp said, "so I really thought that I needed to make a difference."
For Kemp, The Climate Corps was a way to do that.
"The program takes great leaders and makes them exceptional, providing training in climate science, communications and organizing in order to better tell the story of climate change and inspire communities everywhere to take action," Climate Reality Project officials write on their website. "The result is a dynamic group of world-changers shaping the conversation on climate in forums from family dinners to international summits and building a twenty-first century movement for solutions."
The reality project, founded by Al Gore in 2006, is a non-profit focused on fostering awareness of climate change and advocacy towards solutions.
"Our mission is to catalyze a global solution to the climate crisis by making urgent action a necessity across every level of society," project officials wrote on their website.
The Climate Corps is one of the reality project's ways of spreading awareness and empowering environmental activists.
The training, held the weekend of Oct. 17, consisted of panels of public speakers educating participants on both climate science and the communication skills necessary to convey information to the public—but the biggest highlight was a panel with Gore himself.
"It was amazing to see Al Gore in person, as he's been a powerful and inspiring person in my political life," Kemp said.
He first got into environmental advocacy after his ninth-grade teacher, Dezirah Remington, showed Gore's first movie, An Inconvenient Truth, in class.
In the few years since, Kemp has been to two leadership summits and had the opportunity to attend the 2016 Presidential Inauguration in Washington D.C.
"It is so exciting to see a student take a deeper interest in a topic like green energy," Remington said about Kemp. "Isaak was a very dedicated student. He tackled every project enthusiastically and really engaged in our class discussions surrounding energy production and environmental tradeoffs. I can't wait to see what he will be able to accomplish."
Since the training, Kemp has worked towards fostering environmental education in his own community by giving presentations to science classes at his native Sherman High School.
In four presentations so far, he has highlighted the effects of climate change and what can be done about it on legislative, local and community levels.
"I have enjoyed his presentations in my classes and debate they often bring," said Sherman High School science teacher Tyler Dearborn. "I can see him going far if he stays as driven as he is now."
With the drive and commitment noted by his teachers and peers, Kemp's future is bright.
He has been accepted to attend an intelligence and national security summit in Washington D.C., where he will have the opportunity to meet government and military officials.
Kemp might even step into the political spotlight himself once he turns 18, running for either city council or precinct committee position in Sherman County in the 2018 midterms — though he isn't sure whether he wants to pursue politics just yet.
What is certain is that Kemp will continue pursuing environmental science and advocating for environmental education, particularly for children.
"The children are the key," Kemp said, "if the children understand it then we'll have a better understanding moving forward."
More like this story
Latest stories
Latest video:
Mosier oil train fire
Clips from oil train fire in Mosier, Friday, June 3, 2016. by Mark B. Gibson/The Dalles Chronicle. Enlarge