Saturday, August 12, 2017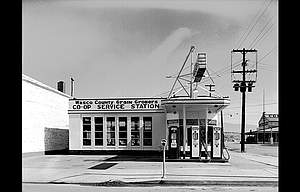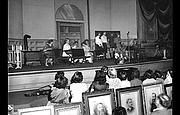 20 years ago – 1997
How do you train for a cross-country bike ride? Well, if you're hardy – or is that foolhardy? – Britishers Mark Bukowski and Russ Johnson, you don't. "We just set out and then we suffered for three weeks," said Bukowski, 29, who, like Johnson, 28, lives in Manchester, in northern England. This trip started seven weeks ago in Canada, and the duo stopped in The Dalles Monday on their way to the coast.
A 15-year-old actually eager to take six weeks of summer classes that started at 8:30 a.m.? Amazing, but true. Such is the appeal of the first-ever computer camp for at-risk youths held at Columbia Gorge Community College. The college paid for the instructor, Dee Murray, and the camp is sponsored by the Mid-Columbia Council of Governments/Job Training Partnership Act. Students learned to put together a computer, install programs and operate the programs. If they attended 90 percent of the classes, they get to keep the computer they assembled.
Providing the glamour and hospitality for the Wasco County Fair will be Queen Katie Lewis, who shares a long involvement with the fair with many other Waco County residents. Lewis, 17, will be a senior at Wahtonka High School this year. She has been involved with 4-H horse projects for five years, showing animals each year at the fair.
40 years ago – 1977
How hot was it Friday? Take your pick: 107, 109, 117. The temperature depended on whose thermometer you were reading. At City Hall where the daily temperature is taken for The Chronicle weather report, the reading was 117 degrees.
Horses of all kinds, especially draft horses, will be used during the threshing activities and plowing demonstrations today and Sunday at the annual Dufur Threshing Bee.
Wasco County workers Thursday decided to continue the American Federation of State, County and Municipal Employes as the bargaining agent and their union. The vote was AFSCME 45, Wasco County Employes Association 19, and no union representative 3. Not included in the election were supervisors, administrators, confidential and certain service employes, the sheriff's department, mental health, and public health workers.
PORTLAND, Ore. (UPI) – A "hit man" from Virginia was hired to kill a onetime San Francisco encounter parlor employe whose body was found Sunday with those of her twin daughters and a man, it was reported Friday. The Oregon Journal, quoting a "well-placed source in San Francisco," said the killer of Margo Edith Compton, 25, was paid $10,000 to do the job.
60 years ago – 1957
Mrs. Bob Flaman, in charge of housing arrangements for participants in The Dalles annual Oregon Open swimming meet, said today that overnight berths for many young aquatic performers will be needed this weekend. The two-day affair, which will bring together more than 250 swimmers from all over the Northwest, starts Saturday.
A crazy-quilt of assorted weather blanketed the nation today, part of the continuing pattern which saw hammering thunderstorms and screaming winds side-by-side with clear evening skies in which a comet flashed.
Five-year-old Teddy Anderson of The Dalles, injured a week ago today in a fall from a lookout tower in the Ochocho National Forest near Prineville, is still unconscious and remains on the critical list at Providence hospital in Newport. Rev. and Mrs. Anderson, who have been staying at the bedside of their youngster, were in The Dalles for church services Sunday.
KLAMATH FALLS (UP) – Bernie B. Kurtz, 13, Henley, admitted shooting his 11-year-old companion to death and placing the body under a log because he was afraid the boy would "talk" about their taking eight guns, Sheriff Murray Britton said today. The body of Johnny Morris of Henley was found on the slopes of Bly mountain about 60 miles east of here Monday after Kurtz broke down and confessed in the sheriff's office, Britton said.
80 years ago – 1937
Pinball games were at most of their customary locations in the city today, despite the edict declaring them illegal, but all bore signs with the caption, "For amusement only. No prizes, no awards." The signs were the weapons of pinball owners to evade the ban against the machines, and it appeared use of the signs would be successful in continuing operation of the devices at least for several weeks. District Attorney T. Leland Brown said he had not yet completed his investigations to determine whether or not mere possession of an illegal gambling device is against the law. Prosecution of wholesalers and distributors of pinball machines for possession has been suggested at Portland, where the lid was clamped down tight on gambling devices following action of the Portland city council yesterday.
By shooting himself in the head with a .22 caliber rifle, John C. Johnston, 83, prominent Dufur banking man, committed suicide last night in a room he occupied at the Balch hotel.
To celebrate the fourth anniversary of the opening of the The Dalles branch of the First National bank, the employes held a party last night at Stiles-on-the-Deschutes. Swimming was enjoyed, after which refreshments were served.
STRATFORD, Conn., Aug. 13. (UP) – The navy's new 55,000-pound "flying dreadnaught" made two satisfactory flights during maiden tests here today before navy observers. The huge amphibian, said to be the largest bomber in the world, took off with civilian pilot Eddie Allen at the controls and with Clifford Schwartz, Sikorsky pilot, as co-pilot.
100 years ago – 1917
The managers of the Dip consider themselves very fortunate in having been able to secure Lucian A. Harvey to take charge of the municipal swimming place. Mr. Harvey has served as guard at different Oregon beaches and as a professional swimming instructor is well known. He taught swimming classes at the Seaside natatorium two seasons. While there he and two other men gained considerable notoriety by swimming from Seaside to Tillamook head and back.
WASHINGTON, Aug. 13. – The United States plans to ask Germany, through the Swiss government, what was done with the captain and four American naval gunners who were taken prisoners when a submarine sank the Campania, the state department indicated this afternoon.
KANSAS CITY, Mo., Aug. 13. – With the street car strike still unsettled, 600 imported strikebreakers were encamped at Selsa, a village about 20 miles from here, today. Today was quiet after Saturday night's rioting, when several cars were burned and the strikebreakers were forcibly deported by a mob of nearly 5000 strike sympathizers. No cars have operated since Wednesday noon.
More like this story
Latest stories
Latest video:
Mosier oil train fire
Clips from oil train fire in Mosier, Friday, June 3, 2016. by Mark B. Gibson/The Dalles Chronicle. Enlarge