Saturday, August 12, 2017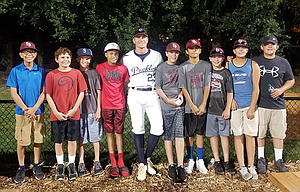 The 12U All Stars commemorated the end of the 2017 baseball season last week with a nice treat: They got to attend a collegiate baseball game in Portland.
Members of the team went to a Portland Pickles game, which was played at Walker Stadium in Portland's Lents Park Aug. 3.
"We took most of the 12U All Star team to a Pickles game against the Medford Rogues, which the Pickles won 7-2," said Lindsay Brock, wife of 12U All Stars head coach Ken Brock. "It was just to have an end of the year get-together."
The Portland Pickles, who play in the Great West League, are a summer collegiate team that provides a professional, minor league-like atmosphere for top college players.
Colton Walker, a 2016 graduate of The Dalles High School and a pitcher who previously played for The Dalles, was available to spend time with the 12U players from The Dalles.
"He signed autographs, and got some of his other teammates to as well," Brock said.
More like this story
Latest stories
Latest video:
Mosier oil train fire
Clips from oil train fire in Mosier, Friday, June 3, 2016. by Mark B. Gibson/The Dalles Chronicle. Enlarge