Thursday, August 10, 2017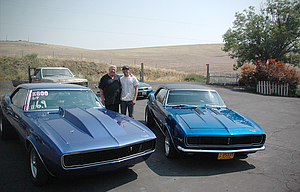 Neon Highlights
Among the highlights of this year's Neon Cruise Weekend will be the traditional "Neon Cruise" of specialty automobiles on Second and Third streets. That event takes place from 7 to 8 p.m. Friday, Aug. 11.
On Saturday, Aug. 12, the popular "Show in the Shade" will be in Sorosis Park from 9 a.m. until noon, with an awards ceremony from 3 to 4 p.m.
At 8 p.m., the featured musical festivities for the "Neon Cruise Party" start at Lewis & Clark Festival Park.
Three bands will be featured, including the 1960s-style band the Sceptre Brothers; rock band Carrell, Buehner, Cook & Kendall; and the all-veteran band Got Your Six.
The music is being presented free, with the venue open only to those 21 and over.
Finally, on Sunday, Aug. 13, the Neon Cruise Weekend extends to Dufur for the Dufur Classic Car Show at Dufur City Park from 9 a.m. to 3 p.m.; and to Dallesport for the popular "Dallesport Drags" on a closed airport runway at the Columbia Gorge Regional Airport.
The Dallesport races will be going on all day, from 8 a.m. to 4 p.m.
Motorsports fans won't have to travel far to experience the sights, sounds and high-speed action of auto racing as the C.H. Urness Motors/The Dalles NAPA-sponsored Dallesport Drags will be a highlight event of the Neon Cruise this Sunday, Aug. 13, at the airport in Dallesport.
The event begins at 8 a.m. Sunday and concludes at 4 p.m. Spectator admission is $10 a carload. A total of 50 or more race car drivers are expected to compete on the one-eighth mile dragstrip, which is a runway at the Columbia Gorge Regional Airport in Dallesport.
The racers will drive their classic style cars — most of them built from the 1950s through the 1970s — and compete for pride, fastest car bragging rights and a sparkling new trophy for each class winner. No cash prizes are awarded.
The competitors will race side-by-side while accelerating to speeds of nearly 100 miles per hour.
Drivers will go through a series of bracket elimination rounds until the final two cars in each classification race together to determine a champion.
The classes include Sportsman (10 seconds or higher), Modified (nine seconds or higher), Pro (eight seconds or higher), Super Pro (under eight seconds) and motorcycles.
Area drivers who will enter the race include Pine Hollow residents Steve Gordon and Lee Hazel. Hazel will be driving his 1972 Plymouth Satellite.
Gordon competed last year at Dallesport and in 2011 and in 2012, when he made it to the semifinals with a very respectable top-four finish.
Gordon, who has entered races this year at Madras Dragstrip and at Woodburn Dragstrip, will be driving his 1969 Chevelle in the Pro class.
The Dalles drivers who will be competing include the father/son duo of Randy and Bailey Keever of The Dalles, Mike Brace, Shannon Tatom and Shae Kasinger. Tatom, who has competed frequently at the Dallesport Drags, will drive her 1978 Pontiac LeMans.
Kasinger will be driving her 1966 Ford pickup. Tatom and Kasinger will likely be the only women competing in the race. Mosier's Ken Hudson, who has entered the Dallesport Drags every year, returns to compete again on Sunday. Hudson is probably the only driver that has entered every event in the 10-year history of the drag racing series.
"There's going to be lots of fast cars there, so it will really be a challenge," said Randy Keever, a 40-year drag racing veteran, who won the Pro class first- place trophy in 2006. "It's going to be a fun weekend and I'm really looking forward to it, but I hope that we'll have a little bit cooler weather for the races on Sunday."
The Keevers, along with nearly all of the racers, will participate in the "Neon Cruise" of classic automobiles on Second and Third streets at 7 p.m. Friday, Aug. 11. They'll also enter their cars in the "Show in the Shade" car show Saturday, Aug. 12 at 9 a.m. at Sorosis Park.
Keever's daughter, Janelle, entered the 2016 race and she did quite well, finishing second in the Modified class. Randy's other daughter Lindsay Denney, has also raced, but will not be behind the wheel this year due to a pregnancy.
Randy wanted to give Bailey, 18, an opportunity to compete for the first time ever in the drag races.
"It's always a real blast to race and It's going to be a fun day," he said.
"Some people get more serious about it than others. If you want to do that, then you should go to a real race track (such as Madras Dragstrip). At Dallesport, it's just a fun day that everybody will really enjoy."
The Keevers will drive their 1967 Chevrolet Camaros in the race. Randy will motor a genuine race car (not street legal) in the Super Pro class.
The vehicle is much lighter with fiberglass body and fenders and is the faster of his two cars with a 427 cubic-inch V-8 engine with 700 horsepower.
Bailey will compete in the Pro class and drive the steel bodied Camaro, which has a 355 cubic-inch V-8 motor with 500 horsepower. Randy has owned that car since he was 18. Both cars have an automatic transmission.
Bailey is relatively new to the sport of drag racing. If he has as much success in racing as he did in his recently concluded Dufur High Ranger athletic career, he could very well be a frontrunner in Sunday's event.
Bailey, a 2017 Dufur High graduate, played quarterback on the football team and helped lead the Rangers to back-to-back OSAA Class 1A football state championships (2015, '16).
"I always enjoyed watching my dad and older sisters race when I was younger and then I was finally was able to start racing too," said Bailey, who did some practice drag racing at the conclusion of the 2016 drag races.
"I'm just hoping that I can do as well as my sister Lindsay. She's been racing quite a while and she's a very good driver and I really look up to her a lot. I hope to continue racing and become better at it too, because it's definitely a lot of fun. I've been around racing since I was a young kid and I always helped my dad and sisters, so the experience I gained then will be helpful because I pretty much know what to do now."
The Keevers and several other drivers will help prepare the track on Saturday. They'll put rubber on the track by spinning their wheels and doing burnouts to melt tires, which helps coat the asphalt surface and improve traction for drivers on Sunday.
"I really like racing the Camaro and I think that we'll both do very well," said Bailey.
"My dad has explained everything about racing and he's a very good teacher. He said that I'll have to stay consistent and do everything the same way every time through each round. I'm hoping to do really well and I hope to win the Pro class.
"The car is running really good, and if I can make my passes as well as I'm capable of then I think I'll have a chance to win. It's going to be fun to have all of my friends come out there and watch me, too."
While Bailey is probably one of the youngest drivers who will enter the race, the 72-year-old Hudson is on the other end of the age demographic and he could very likely be the oldest driver who will be competing. Hudson has entered the Dallesport Drags every year since it began in 2004.
Last year, he lost in the first elimination round.
"It's always fun and that's the main reason we do it, we're not making any money," said Hudson, who won the Pro class race in 2011.
"It's always nice when you win, but it's always fun anyway. I'm hoping to do well, but sometimes it's hard to win because you're in a bracket with other cars that are faster. If we only went when we thought we could win, then we probably wouldn't go very often. This isn't an exact science, especially for older people who don't have a good reaction time."
Hudson will drive his 1957 Chevrolet, which has a 427 cubic-inch V-8 engine with 475 horsepower. Like many other The Dalles area drivers — such as Don Budd, Bill Maske and Dave and Vickie Farley — Hudson races often at Madras Dragstrip and he won the May 28 Nostalgia Drags Sportsman class race. Hudson also enters Wednesday drag races occasionally at Portland International Raceway in the National Hot Rod Association Summit ET Racing Series.
Hudson says he would like to compete more often, but he's often working in his cherry orchard in Mosier.
At halftime of the races, James August Smith, a Hollywood stuntman from Appleton, Wash., will display his skills by driving a car on two wheels.
This year marks the 11th year of the Mid-Columbia Car Club Classic Drags at Dallesport. The races were started in 2004 by organizers Tim and Robin Urness. There was a hiatus from 2013 through 2015 — the Bonneville Power Administration used the runway as a storage area for some equipment for three years — and the races resumed last year.
More like this story
Latest stories
Latest video:
Mosier oil train fire
Clips from oil train fire in Mosier, Friday, June 3, 2016. by Mark B. Gibson/The Dalles Chronicle. Enlarge