Thursday, August 10, 2017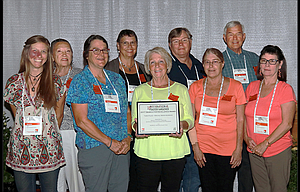 Wasco County Master Gardeners received a prestigious Search for Excellence award at the International Master Gardener conference for its regional jail greenhouse and spring plant sale.
The biennial conference was held in July at the Oregon Convention Center. The local program netted a third place award in the category of special need audiences.
The award-winning program, which won a state award in 2013, began in 2009 in a greenhouse obtained by the Northern Oregon Regional Correctional Facilities (NORCOR) teaching staff as a part of their science curriculum for youth inmates.
The program linked Master Gardener volunteers and facility teachers to produce a broad variety of plants, which are sold during the spring plant sale to raise funds for the Master Gardeners chapter.
Students in the program are selected after demonstrating exemplary behavior and, because many are short-term residents, the project uses instructional mini-sessions to teach basic gardening concepts that can be applied to the project.
"For inmates, the positive reinforcement of their greenhouse bursting with colorful plants gives a tremendous sense of accomplishment," a Master Gardeners press release stated.
"Some of the residents have gone on to use their skills in agriculture, and many receive certificates of accomplishment that are used as job references."
"The Master Gardeners put in hundreds of hours of volunteer service each year at the greenhouse and with the youth at NORCOR," said Michelle Sager, the master gardener program manager for OSU Extension in The Dalles. "It was an incredible honor for the project team to receive this award at the international level for their hard work, dedication, and impact they have on our community."
Master Gardener Peggy Peterson, who applied for the award on the local chapter's behalf, said, "There was a lot of deserving projects around the state and around the world actually, so we just lucked out."
Of getting the award, she said, "I was quite pleased."
The local program has also won a Search for Excellence award for its Dalles Imagination Garden (DIG) by Google. "We're actually a very active group in Oregon and have put forth the effort," Peterson said.
The local program had its best spring plant sale ever this past May, she said, grossing about $9,000. It is the only fundraiser for Master Gardeners, and funds all its projects. The proceeds are split with NORCOR, and the jail plows that money back into the greenhouse, Peterson said.
"There's a large group of Master Gardener volunteers that go down and work at the greenhouse," Peterson said. "They start planting things in January and we work until the day before Mother's Day and that's when we have the spring fair, and essentially we try to get rid of everything on that day."
This year, they almost sold out. The jail used a few leftover annuals to landscape in front of the adult facility.
Search for Excellence projects fall into one of seven categories: youth programs, demonstration gardens, workshop or presentation, community service, innovative projects, special need audiences, or research.
Each project must be deemed by judges to be meritorious, simple to replicate, and compatible with the Extension Master Gardener mission.
Oregon's four award-winning projects include Clackamas County's 10-Minute University, Lincoln County's Yaquina Bay Lighthouse and School Garden, Marion County's Grafted Vegetable Garden Trial and Wasco County's project. Together, they represent the spectrum of Master Gardener services to local communities.
The conference drew a record 1,297 attendees. Lead organizer Dr. Gail Langellotto of Oregon State University said, "We are proud to host so many gardeners from across the U.S., Canada, and South Korea. It is a celebration of OSU Extension and the Master Gardener Program."
A hallmark of this conference is the coming together of the science and art of gardening. Participants learn science-based information from university extension experts augmented by landscape and garden designers, plant explorers and plant breeders. The conference offered garden tours, speaker sessions, a film series, a trade show, networking opportunities, and social events.

The Oregon State University Extension Master Gardener program makes its science-based information available to everyone through classes, phone-in clinics, farmers markets, information booths, gardening practices clinics and workshops.
More information is available online at extension.oregonstate.edu/mg.
More like this story
Latest stories
Latest video:
Mosier oil train fire
Clips from oil train fire in Mosier, Friday, June 3, 2016. by Mark B. Gibson/The Dalles Chronicle. Enlarge