Wednesday, August 9, 2017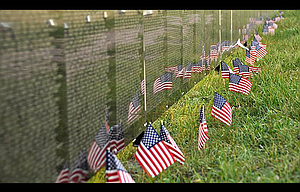 The Wall That Heals will soon arrive in Goldendale to honor Vietnam veterans and provide area residents with an opportunity to pay respects to the more than 58,000 warriors who fell in battle — and show their support for those who came home.

The travelling half-size replica of the Vietnam Veterans Memorial in Washington, D.C, arrives in Goldendale about 11 a.m. on Aug. 30. People are invited to bring flags 30 minutes earlier and line Broadway Street to welcome the modified 53-foot truck trailer carrying 24 panels of The Wall.
The Washington State Patrol and Klickitat County Sheriff's Office will provide an escort for the monument, which is coming from Toppenish, Wash. Hundreds of bikers from groups, such as the Patriot Guard Riders, will join the caravan.
"When you stand in front of The Wall, it's a sobering experience," said Scott Robinson, a Vietnam-era veteran and chair of Masonic Lodge 31 in Goldendale, which is organizing the event. "People should go see it because it brings an awareness of what sacrifice really means, and it's a way to honor the people who stepped up and defended our freedoms."
He said American Legion Post 116, county and city officials, service organizations and community members have all been working together to make visiting The Wall a good experience for 4,000 to 10,000 visitors.
It will be on display 24 hours per day at the Klickitat County Fairgrounds, 903 N. Fairgrounds Rd., from Aug. 31 to Sept. 3.
The Wall is about 250 feet in length and, like the original memorial, is erected in a chevron-shape. The replica is constructed of powder-coated aluminum, supported by a aluminum frame, according to the Vietnam Veterans Memorial Fund, founders of the full-scale Wall in Washington, D.C.
The exterior sides of the trailer that carries the panels open to serve as a mobile education center, with information cases displaying photos of service members whose names can be found on The Wall. Letters and other memorabilia left at the D.C. memorial will also be exhibited.
"We will have people stationed at The Wall at all times to provide comfort and assistance as needed," said Robinson.
He said many veterans prefer to visit The Wall at night when they can find more solitude. A hospitality room will be available as a place for quiet reflection or, during the daytime, a place to get out of the sun and grab a beverage.
At 2 p.m. on Aug. 31, Robinson said a special program takes place to commemorate the wall.
National Guard soldiers will perform a rifle salute and George Minor will play taps, which will be echoed via a broadcast from Arlington National Cemetery in Virginia.
John Miller, a retired Army lieutenant colonel who served in Vietnam, takes the podium as keynote speaker.
Robinson said Goldendale is a town with a small population (3,449), so hosting The Wall was made possible by its citizens and officials mobilizing to make sure all bases were covered.
"Everyone in this community has really stepped up, it's been a positive experience," he said. "
Residents along Broadway are being asked by city leaders to participate in the program Greenlight A Vet and install green porch lights. The national campaign seeks a visible showing of support for veterans with the green lights. The color denotes hope, renewal and well-being. The term "greenlight" is commonly used to active forward movement in a military campaign.

The Wall That Heals is a project of the VVMF, a nonprofit organization authorized by Congress in 1980 to build a national memorial.
The replica wall allows people who may not be able to get to D.C. an opportunity to give a tribute to Vietnam veterans, many of whom came home to abuse at the hands of anti-war protesters.
According to reports, 90 to 100 requests for the presence of The Wall are made by cities across the country each year, but only 40 are granted, and small towns are often given preference.
"The traveling exhibit provides thousands of veterans who have been unable to cope with the prospect of facing The Wall to find the strength and courage to do so within their own communities, thus allowing the healing process to begin," states the memorial fund website.
Since it was unveiled in 1996, the Wall That Heals has visited more than 400 cities and towns throughout the United States.
More like this story
Latest stories
Latest video:
Mosier oil train fire
Clips from oil train fire in Mosier, Friday, June 3, 2016. by Mark B. Gibson/The Dalles Chronicle. Enlarge